Welcome to "Sucks Less" Week 5. Hard to believe I've been doing this feature for over a month now, but that'll happen when you have the kind of support I've gotten each time. Comic 951 in particular seemed to push our editor's buttons, so you'll get a couple of those this coming Tuesday. In the meantime, enjoy this week's winners.
Comic 950: Mystery Solved
Original:
This strip has awkward dialogue to begin with, but it's also crippled by being bookended by some of the most superfluous panels the webcomic world has ever seen.
"Sucks Less" Version:
by Gamer_2k4
Sorry for posting my own work, but apparently this edit was good enough that no one felt any other improvement was necessary. It just goes to show how EASY it is to make xkcd suck less.
Fans of my friggin' sweet homemade improvement will get to see it again on Tuesday.
Comic 951: Working
Original: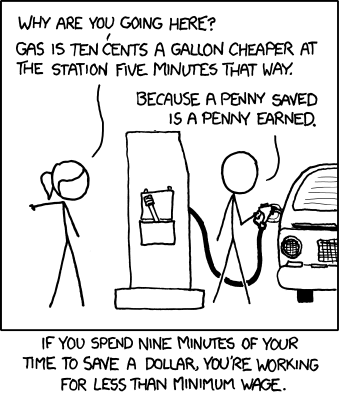 This one is just kind of pretentious and stupid.
"Sucks Less" Version:
Alt-text: A penny saved is a penny earned.
by Lucas
This one pokes fun at Randall, and it's also moved the "penny saved" witticism to the alt-text, where it kind of fits and is definitely less glaringly stupid.
Comic 952: Stud Finder
Original: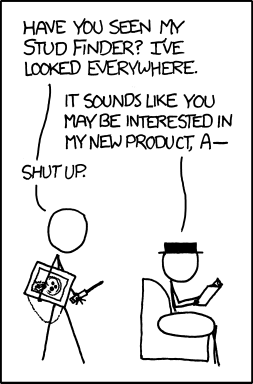 For a tolerable as the execution is, the joke is old and not funny at all.
"Sucks Less" Version:
by SinbadEV
"Anytime I see something screech across a room and latch onto someone's neck, and the guy screams and tries to get it off, I have to laugh, because what is that thing." - Jack Handey
Nice job this week, guys. Remember, stay tuned to see the runners up on Tuesday.