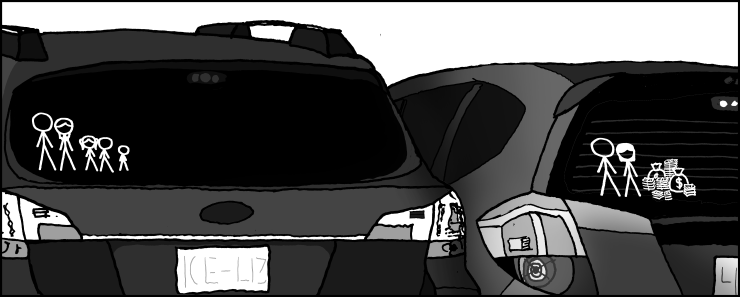 Title: Family Decals; alt-text: My decal set has no adults, just a sea of hundreds of the little girl figures closing in around a single cat.
Wow, an almost not-terrible comic. There are no words (major bonus points), the cars look passable, and he uses his traditional stick figure art to excellent effect. From a technical perspective, this is almost the perfect comic.
Except.
The point Randall's making is so wrong it makes me want to punch him in the face. Who do you think you're kidding, Randall? Sure, you probably think that you're so smart for picking money instead of kids. "I could have kids, or I could be RICH AND SUCCESSFUL ALL THE TIME." Don't even start that garbage. You're not going to have kids because one, you have
no idea how
, two, you're a glorified T-shirt salesman who has to jack up prices probably just to support himself, and who flat out can't afford a family, and three, you know (along with everyone else) that you would be an absolutely awful parent.
The "kids cost money" concept is so far from being new or insightful that I want to punch Randall again, just for good measure. Everyone knows kids cost money. They also cry, keep you up at night, ruin everything that's not welded down, and are messy. They're also wonderful little human beings who will someday grow up to be intelligent, contributing members of society (if, you know, you don't suck balls as a parent). They're something you end up loving more than life itself. Kids are a fantastic blessing, and reducing them to a matter of money/not money just makes you a complete dick.
Also, it's worth noting that no one in the forums has any idea what the heck the alt-text refers to. Just Randall being retardedly obscure again.