I'm sorry to all of you who came here expecting hate. That's not going to happen, because I really enjoyed today's strip.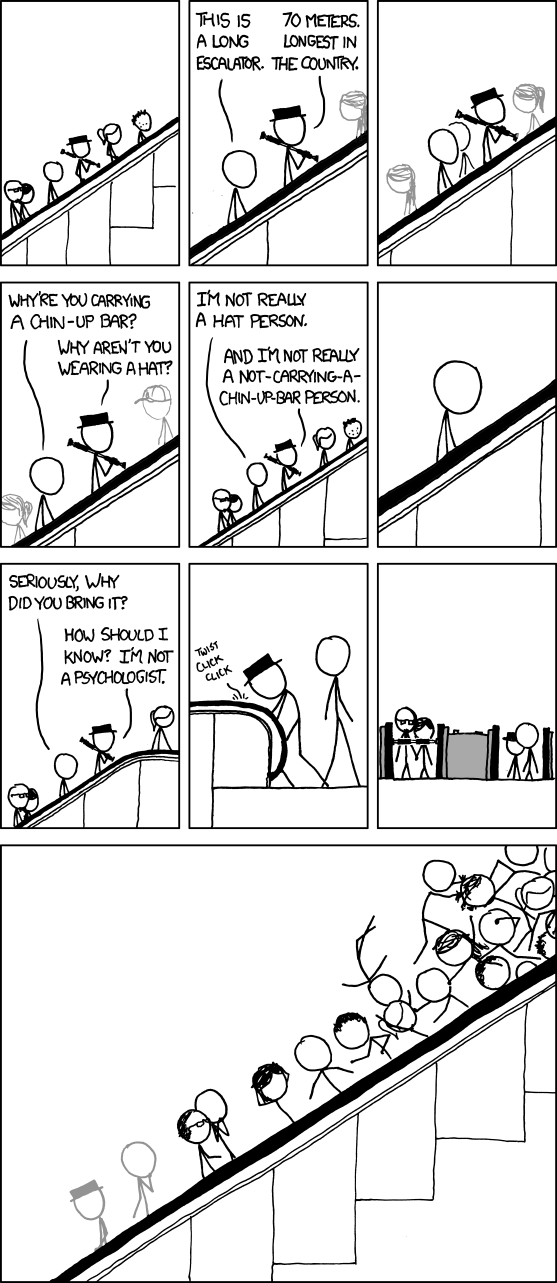 Title: Chin-Up Bar; alt-text: Those few who escaped found the emergency cutoff box disabled. The stampede lasted two hours and reach the bottom three times.
Maybe I'm up too late. Maybe something in my brain snapped. Maybe...man, I don't know. All I know is that I'm going to gush about this comic, so be prepared.
Ask and you shall receive, right? Not two strips after we complain about how dull and stupid Mr. Hat is getting, Randall posts this! And...it's perfect. The pacing is just right, Mr. Hat is obscure and quirky with ultimately sinister motives (that go well beyond making "stud finder finder" jokes), the joke is held off until the last panel, and the alt-text does exactly what an alt-text is supposed to do. This honestly might be the best xkcd in HUNDREDS.
This, in my mind, is classic Hat. We reference
Comic 169
here a lot, where he just friggin'
shanks
a guy, but the Mr. Hat that I remember is a bit nutty, a bit random, and more than willing to go to extreme and convoluted lengths just to cause a little (or a lot of) chaos. And the thing I love about this is just how nonchalant he is about everything. In
Comic 952
, he might be nonchalant, or he might just be a massive dick. It's hard to tell, because anyone making that response would do so in the exact same way. Not so in this one.
It's also nice that Randall sets the scene naturally through the flow of the strip. Of course Mr. Hat would pick the longest escalator in the country to do this on, but the way we learn that is very smooth and elegant. The guy behind him is trying to make small talk on a tedious ride, and Mr. Hat responds in kind. It's logical. It makes sense. It's realistic dialogue. As the exchange progresses, we begin to feel the hesitation and awkwardness of the second guy through judicious use of beat panels. As I said above, the pacing is perfect.
And finally, his mission accomplished, Mr. Hat leaves. He doesn't stand there watching. He doesn't look back as he descends. He's sown his chaos, and now he's done. It just underlines how utterly senseless the whole act is, especially to him.
Now, the one thing I don't get is why the second guy follows Mr. Hat down the other escalator. But hey, if that's the worst I can say about a (10 panel!) strip, that's not bad. This comic made me laugh, and I'm not going to criticize just for the sake of criticism.
Of course, if one of YOU feels critical enough to write a guest post, my email's at the top of the page...