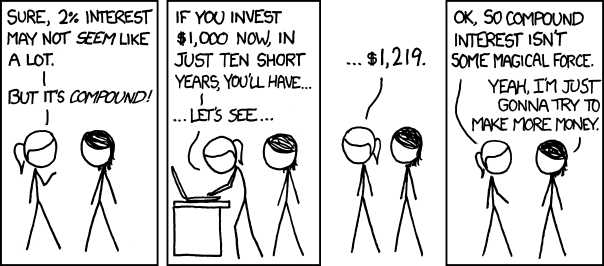 Title: Investing; alt-text: But Einstein said it was the most powerful force in the universe, and I take all my investment advice from flippant remarks by theoretical physicists making small talk at parties.
Oh look, another strip where Randall invents a false target and then attacks it for the sake of humor. Humor that - it's worth noting - would not exist if he was being honest in his subject matter.
Let's start with the obvious. 2% interest may not seem like a lot because it's NOT a lot. 2% is what you get if you put your money in a savings account. It's what a bank guarantees you for letting them hang on to your money. 2% is NOT investing. Furthermore, decent investments are going to be maturing for a lot longer than 10 years. If you have a low principle, a low interest rate, and a low time frame, of COURSE you're going to get a low return!
If we're being realistic, an investment is something that you're going to let grow for several decades, and you're going to get an average rate of return much higher than 2%. I'm no financial expert, but I understand that decent investments return around 8%, and great ones return 12%. Those numbers may be off (feel free to correct me in the comments), but it doesn't matter; my example is going to be much lower.
(All results are done
here
with a starting principle of 1000, no annual addition, and annual compounding.)
So, we start with our 1,000 dollars. I'm 23 years old; let's say I want to retire at 63. This money will be compounding interest for 40 years. At just a 4% return, that 1,000 dollars turns into 4,800 dollars. At 5% it becomes 7,040 dollars. At 6% it's at 10,285 dollars. See that? Even at below average interest rates, a principle as low as 1,000 dollars will increase tenfold if given the time.
Compounding interest isn't magical. No one said it was. But, under the right conditions, and given the right amount of time, it will offer a dramatic return on the original principle.
So why am I making such a big deal about this? Why am I running numbers that you guys probably already know about? Well, quite simply, it pains me that a webcomic about "math" can so callously disregard such an important application of it. It feels like Randall is saying, "Compound interest? Eh, it's basically meaningless." It's not! Compound interest is a big deal, and it should be treated as such!
What's happening to you, Randall? Why don't you like math anymore?
P.S. The
xkcd forums
are filled with people pointing out the flaws in the comic (low interest rate, etc.) Interestingly, the number that's in the strip right now for the result ($1,279) is wrong. No one can reach that answer no matter how they come at it. I've saved the image for now, as I expect that Randall will sneakily update it once he sees the flaw.