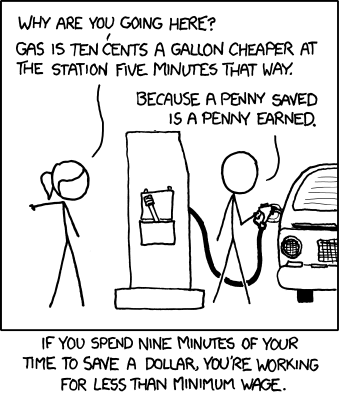 Title: Working; alt-text: And if you drive a typical car more than a mile out of your way for each penny you save on the per-gallon price, it doesn't matter how worthless your time is to you--the gas to get you there and back costs more than you save.
Okay, I'm going to begin by drawing attention to the stupidest part about this strip: the guy's response to Sarah's question.
"Because a penny saved is a penny earned."
You're not saving pennies! You're not saving anything! This quote is so completely inappropriate as a response that it would make perfect sense if the girl was the one saying it! The only justification I can possibly think of for the quote is if you take it absolutely literally; that is, that every penny you save is directly equivalent to pennies earned while working, and every time you make money you should consider it to be some sort of salary. Obviously that's stupid, but it's also the point Randy's trying to make, so who knows.
The worst part is that I actually disagree with what Sarah (yes, that is her name, get used to me calling her that) is saying. If I fill up my car with 15 gallons of gas at $3.62 instead of $3.57, you know how much I'm saving?
75 cents.
Three freaking quarters. Heck, I go to gas stations that I know have my gum, and if their gas is the cheapest, that's a bonus. And yes, that means I agree with Randall. Ouch.
But the thing is, I know people who do this. My mom and grandparents do this. And to be fair to them, they're just trying to be thrifty. That's not a bad thing, even if you compare it to "working less than minimum wage." Not everything is a freaking job, Randall. You should know this better than anyone, given that you only "work" about an hour a week. Should we stop donating money to charities? Should we not volunteer? After all, that's like LOSING money! That's even worse than this gas thing!
Don't kid yourself, Randall; you only did this as GOOMHR-bait. Stop being such a utilitarian douchebag.
P.S. Jon alluded to this in his bingo post yesterday, but it does seem like
the
forums
are
getting
a
bit
more
cynical
(or at least
more
critical
). I like this trend.