Hello, everyone. Four updates in four days? Preposterous! I expect this streak to continue, too, with another review tomorrow and possibly some bingo around the corner. In the meantime, enjoy these improved xkcds.
Comic 944: Hurricane Names
Original: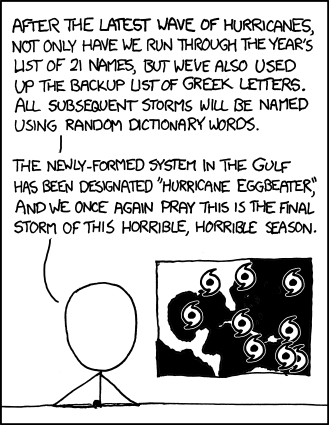 Hey guys, let's take a premise that might be humorous, suck all the funny out by overloading the reader with words, and don't let up until the alt-text has a paragraph all by itself! That's what Randall's done with this comic.
"Sucks Less" Version:
alt-text: I keep reading "Cyclone" as "Cylon" ... heh heh ... Cylon Steve is attacking Florida ... giggle.
This fix came from SinbadEV. It's amazing how many of these strips can be improved by just condensing the text. There's no over the top "the world is a hurricane" situation, there's no nerd pandering with Cantor's theorem, and there's a lot fewer words to convey exactly the same situation. All in all, a better comic.
Comic 945: I'm Sorry
Original: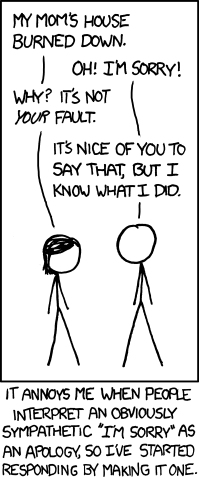 As I said in
my review
, this isn't necessarily a bad comic. In fact, I think it's one of the better ones in recent memory. Still, let's see if we can't make this a bit better.
"Sucks Less" Version:
Ladies and gentlemen, THIS is how it's done. Take a recurring and recognizable character, quickly set him up with a plausible situation, and chuckle as he twists it around. It's relevant, it's punchy, it fits the character, it shows instead of telling, and overall it's
a pretty darn good strip
. Credit goes to Schnouk for making this one suck less.
Comic 946: Family Decals
Original: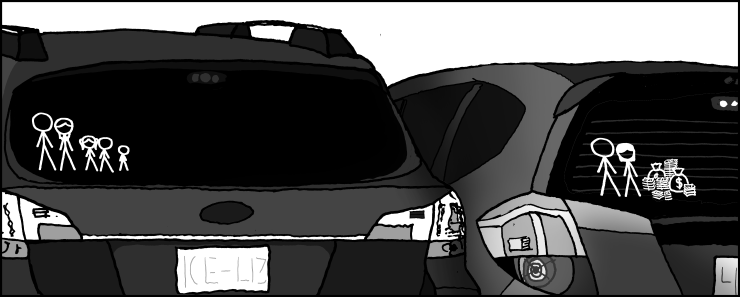 This one wouldn't be so bad if I didn't hate Randall for making it.
"Sucks Less" Version:
Alt-Text: I've looked everywhere but I've yet to find one of these family decals for "Quetzalcoatlus".
SinbadEV helps me out again here. He submitted two corrections, but I like this one best. It's just another decal...UNTIL you pull up next to someone with those family stickers! Everyone wins!
We got a pretty decent batch this time around. Major thanks to this week's contributors. Remember, everyone, YOU TOO can be credited on one of these features! Just send me an email with your improvement, and I'll try to see that it gets put on the site (see the top of the page for details).