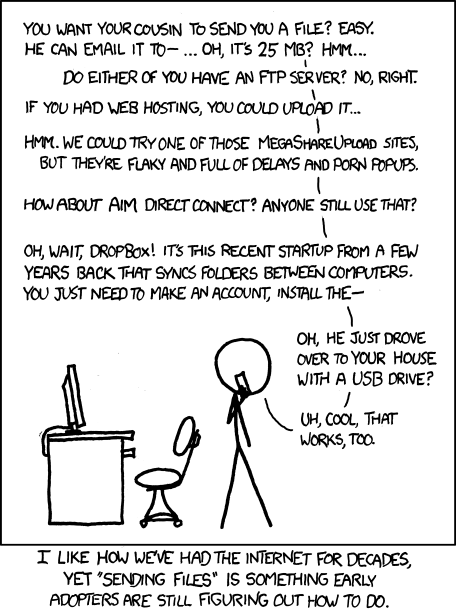 Title: File Transfer; alt-text: Every time you email a file to yourself so you can pull it up on your friend's laptop, Tim Berners-Lee sheds a single tear.
Right away, this strip reminds me of
Comic 783
. Randall uses far too many words to make a point that simply doesn't need them. Okay, the guy's having trouble sending a file. Randall's suggestions are complicated. The guy uses a USB stick instead.
END OF STORY.
We don't need to fight through 109 words to get to your stupid punchline. Worse still, it's a one-sided, "realistic" conversation. In other words, the character is
talking for two people
("Oh, he just drove over to your house with a USB drive?"), and he's doing it in a very clumsy way for a webcomic. What's wrong with this exchange?
"So can your cousin email you the file?"
"Too big."
"How about FTP?"
"What's that?"
"MegaUpload?"
"And get chewed out by the wife for the porn popups?"
"Uh...AIM direct connect!"
"We don't have AIM."
"Oh! Dropbox! You just have to make an account, download the -"
"You know what? I'm just going to have him put it on a USB stick."
"Oh. That works, I guess."
alt-text: Glad I could help!
Same thing, half the words, and it would allow for multiple panels. Randall, you're making a webcomic. Don't wall of text the readers (yes, that's a verb now). Give us a COMIC. Show the actors! If you just want to write a bunch of text, make a blog (I'm sorry, BLAG) post. As usual with xkcd, the failing comes, not from the joke or the point made, but from the execution. This admittedly is a real problem for the average user (I've run into it many times), even if the more computer-savvy have workarounds.
Of course, this brings up another question: Why is it that the "early adopters" are the ones having trouble? Randy, do you even know what an early adopter is? The ones who have been around the internet the longest are the ones who would know the best way to do this. Furthermore, "sending files," at its most basic, IS something the average computer user knows how to do. The problem is that file have increased in size faster than email clients have increased their limits. People know how to email files. They simply don't know what to do with big ones.
Finally, we come to the alt-text. Randall, what's emailing a file to yourself if not essentially uploading it to a web server? The average user sees it as simply as this: emailing yourself a file suddenly puts it on the intertubes forever. You can get it from anywhere now. Why should that make the guy who invented the internet (no, not Al Gore) cry?
Ugh. This comic had a drop of potential, perhaps, but it was all wasted in the execution. It's wordy, it's drawn out, and parts of it don't make sense. Way to ruin another idea, Randall.