Okay, so people are just going NUTS sending me strip improvements. SinbadEV has been consistent as always, with FOUR submissions, while two new people joined the "sucks less" bandwagon, offering three strips between the two of them. Some of you may be thinking, "Seven improvements for only three originals? Can they ALL be winners?"
Well, I think (for now) the answer is no. I'll publish the best one for each comic, with a possible honorable mention if another submission is notable enough. But, if you guys don't like that and want to see all of them, let me know in the comments! This is a democracy, and I'm open to suggestions.
Comic 947: Investing
Original: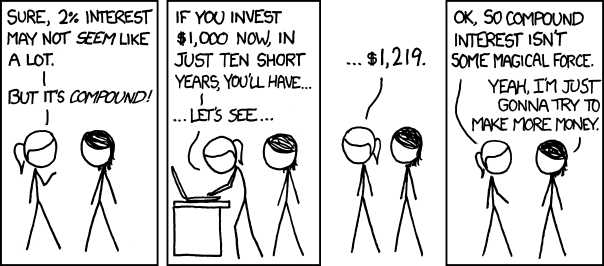 Strictly speaking, this is accurate, but it's approached in such a stupid way that the punchline is just disappointing and wrong feeling.
"Sucks Less" Version:
Alt-Text: It is claimed that Einstein once said compound interest was "the most powerful force in the universe". Obviously he had never seen Star Wars.
by SinbadEV
I like this one because it attacks the "compound interest is magical" notion in a sensible way. Yes, in the right conditions, compounding interest can result in a lot of growth. An interest rate of 2% is not one of those conditions.
Comic 948: AI
Original:

Randall thinks, "Computers can drive cars but can't pass a Turing test. Maybe I can make this a joke about hippies!" He can't.
"Sucks Less" Version:
by Anonymous
This is just funny to me, and it reveals a major flaw in the original strip: the dialogue. Megan now responds the right way to Randall's overly descriptive and obvious commentary, and Randall gets some comeuppance. Huzzah.
Honorable Mention
by T-Jack
The caption says it all.
Comic 949: File Transfer
Original: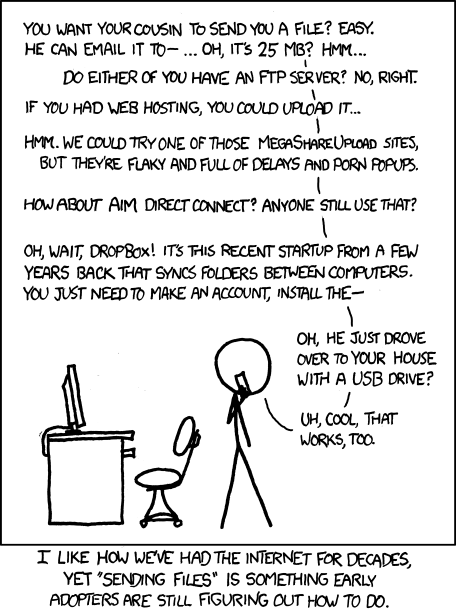 Randall, shut up already! Just make your point and move on!
"Sucks Less" Version:
Alt-Text: Every time you email a file to yourself so you can pull it up on your friend's laptop, Tim Berners-Lee sheds a single tear.
by SinbadEV
Short and sweet, has better punchline execution, and to top it all off, it LOOKS like a comic strip! If Randall had posted this version instead, I don't think I could've written a review that day.
Hey, a big thanks to everyone who participated this week. Randall gave us a lot of material to work with, and it seems like you three were up to the challenge. And don't forget, ANYONE can submit an "xkcd Sucks Less" strip! Just see the details at the top of the page.