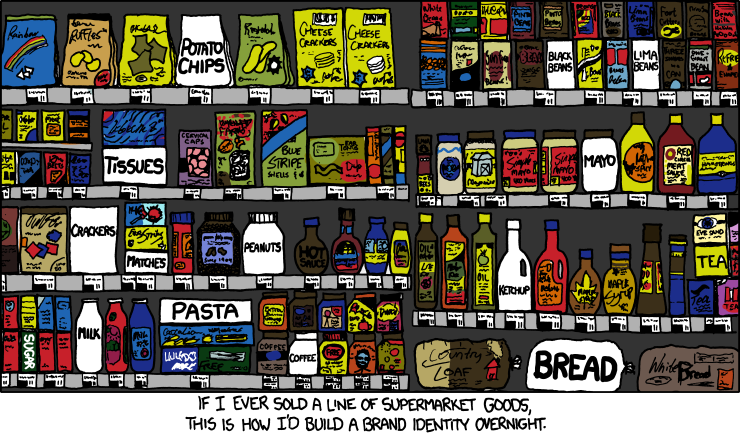 Title: Brand Identity (
Formerly
Brand Awareness) alt:
Legally-mandated information would be printed on the back or discreetly along the bottom. In small letters under the nutrition information it would say "Like our products? Visit our website!" There would be no URL.

Hey everyone, this is the Society of Russell Crowe Film Supporters (SoRCFS) back again with a review.
So....I really have no idea what the hell Randall is going for here. For that matter, not a lot of people on the forums do, either. A lot of the posts I've read across the first couple of pages have gone something like this:
"PretentiousGuy wrote: Mkay it's not really that funny but I laughed at the alt text. But hey, here's [some example of a white label product]
It really is beyond me how they've managed to turn out 4 pages of posts mostly like this (or, failing that, just the second part).
Is there much to say about this comic? No, not really. The only thing I really laughed at was the fact that Randall has apparently put his everything on one supermarket shelf. This including milk, which is generally supposed to be refrigerated. Also, second row down, a bit left of center: cervical caps. Because, you know, you absolutely
have
to put those in. It's
totally
not bad taste/irrelevant to the joke/more pointless seXKCD.
I'm going to do that thing where I criticize trivial parts of the comic composition now. If you really don't feel like reading this kind of stuff, then just know my general attitude towards this comic is that it's bland, and otherwise just plain out boring.
It took me a while to figure out that the comic was in color for a reason. Maybe it's just because I'm stupid, maybe because using white to contrast color here is a piss-poor decision. I mean, sure, I noticed the white label things right away (I'm not that stupid, apparently). But I cared a lot less because there were so many things to look at that the white label's uniqueness didn't hit me at first. If I was trying to tell this (admittedly bad) joke myself, I would sacrifice the bunches of objects for greater clarity. Here's some things I'd consider to achieve this goal:
White stands out better against dark colors. Avoid light shades of grey.
My audience reads left to right.
I should try to place important things based on the rule of thirds or in the center.
That said, here's a five ten minute mockup of what I said above:

Clearer? I'd like to think so. Does it improve the joke any? No. Hopefully it does make it a bit clearer, though.
Eh, I'm done for now. There' not much to say and I feel like I'm forcing myself to blabber on pointlessly. Whatever.

Watch Man of Steel in 2013,
SoRCFS