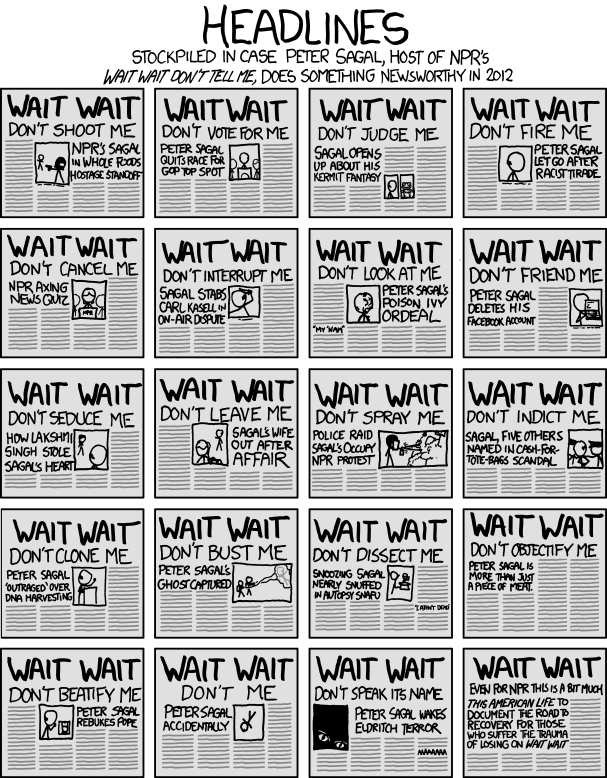 Alt-Text: You can't stab Karl Kasell. He sounds all slow and stentorian, but he moves like a snake.
Oh great, another shotgun humor strip, this time about possible headlines for when Peter Sagal does something "newsworthy" (I'll get to that in a minute) in 2012. Okay, no. First, why would Randall need to specify the year 2012? Is the show going away? Or does he believe the "2012 End Of The World" bullshit? Also, Who the hell stockpiles headlines in advance? If something actually happens, any reporter could come up with a headline, especially with such an easy target. Hell, even Randall could come up with enough of them to fill a shitty comic in only two days.
Okay, in Randall's case it was different, because he didn't have to match his stupid headlines to actual stories, and, to be honest, that actually sounds like the point of this strip, "to be prepared for the unforeseen", but in the end it just works against him. First, none of the headlines are funny (okay, the ACCIDENTALLY one cracks me up, but that's because I'm a basement-dweller who finds memes funny), and second, at least one of them directly contradicts the strip's premise, unless of course you think that a celebrity deleting his Facebook account is newsworthy.
In short, this is a very bland comic, with a few awful parts. When will Randall understand that qunatity over quality only works if you have at least some quality? Well, seeing that he's managed to shell out almost 1000 strips on a thrice-weekly basis, probably never.
But I can dream, dammit!
----
Edit: Notorious commenter Michael notes that stockpiling headlines, along with whole stories, is a real practice, employed, for instance, in presidential elections, in order to have all bases covered. However, as another commenter says, I don't think it is done in anticipation of improbable events.