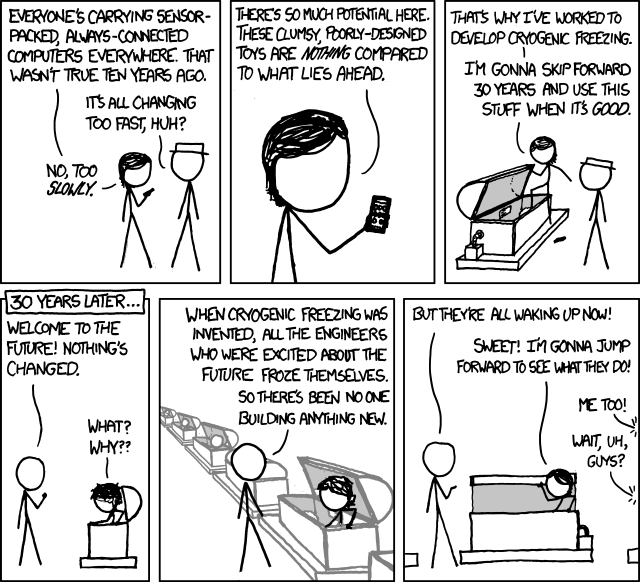 title:
Cryogenics
; alt-text: "
'Welcome to the future! Nothing's changed.' was the slogan of my astonishingly short-lived tech startup.
"
On the bus this morning (or technically while I was walking from the bus stop to the office) I was thinking "Since no-one has reviewed comic 989 I suppose I should at least put it up so people don't start commenting on it in the thread for 988." but alas, I was too late.
Leahcim
said...
The new comic is an interesting halfway breed between a subversion and a shoehorn. After reading the first panel, I thought, "Yet another comic about how technology is changing fast. This is stupid. Life is stupid." Then, Randall Munroe took me in a completely different direction by making the comic about cryogenics. It felt kind of weird but an interesting twist at the time, and that feeling actually won't go away for me. Every time I read it over, I seem to be able to process it as both a cool twist and some stupid right turn in a disjointed comic. I think this is because it is actually the exact halfway point between the two, and it mediates the spectrum. So, not ideal in the "I-wanna-read-a-good-comic" sense, but very interesting to analyze from the literary point of view. A sort of metaproperty. Something for those searching for the next level of meaning. Something for those too bored out of their minds to do anything but criticize a lame but somehow popular webcomic all day long.



That said, I do have a few things I came up with to say about this comic.




The first three panels are an exceptionally convoluted setup for "I'm going to freeze myself because things will be better in the future." Unfortunately this has been done before and to the extent that it essentially was a running gag that was the foundation of an entire series of comics called "Time Friends"




(There were more of these and even a "make your own Time Friends competition".... but it looks like the old halfpixel archives are broken... check out the creators latest endeavour, chainsawsuit, for what happens when a comic artist says "xkcd is making a tonne of money for doing nothing... I could do that!" and then does so ironically and realizes that it's profitable and so keeps doing it...)

What's more, the idea of trials of engineers cryogenically preserving themselves in order to see the future has been detailed in a Robert A. Heinlein novel titled The Door into Summer. I'm not saying that all that could be said about travelling to the future to see what advances happen and being disappointed has been exhaustively investigated... just that it's been done before.

Now, I'll grant that Randall is saying something I haven't heard before and we can summarize this as, "If all the smart people froze themselves so they could experience the future then the future would be no better then today." I'll even grant that he has said this in a way that (as Leacim mentioned) subverts our expectations.

Randall often seems to be of the opinion that subverting expectations is sufficient for humour to happen. I mean... that's what it sais on Wikipedia right? I didn't laugh at this "comic" even though I thought it was clever enough for what it was.

Breaking it down I think that last panel there is supposed to be the punchline when, to me, the "joke" had already landed (albeit wordily) in panel five. Given the stretching of the setup across four panels I think that this is probably just a symptom of his taking too many panels to present something that would have worked better in three and needing an additional punchline to make it work at that length.

But what really bugs me is that Randall here, "engineer" that he is, has presented us a false dichotomy. Real scientists and engineers work to bring about the future they envision, it's just us "smart" slackers who want to skip ahead.