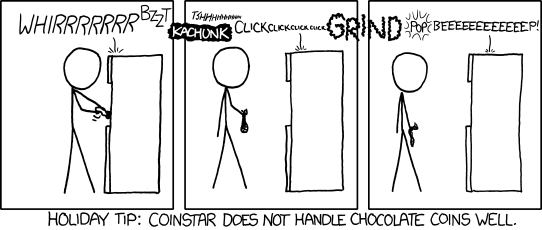 title:
Coinstar
; alt-text: "
Plus they take like 9%.
"
I figured out a way for this to be funny... imagine Randall trying to explain this joke to someone.
"Can you imagine if some kid put chocolate coins in one of those Coinstar machines?"
"Heh, yeah."
"It would be all like WHIRRRRRRRR BZZZT KERCHUNK TSHHHHHHCLIKCLCIKCLCIKCLCIKC GRING POP BEEEEEEEEEEEEEP!"
"Yeah, okay, I get it."
"And all the chocolate that got stuck in the machine would be like the 9% commission the machine takes."
"*Sigh* Just go make your stupid comic, dear."
"Oh Man! That would make a wiked sweet comic, this guy would walk up to the machine and it would be all like WHIRRR..."
"SHUT UP!"
I will grant that, thanks to my new tactic of imagining Randall trying to explain the joke, I was able to laugh at this comic.