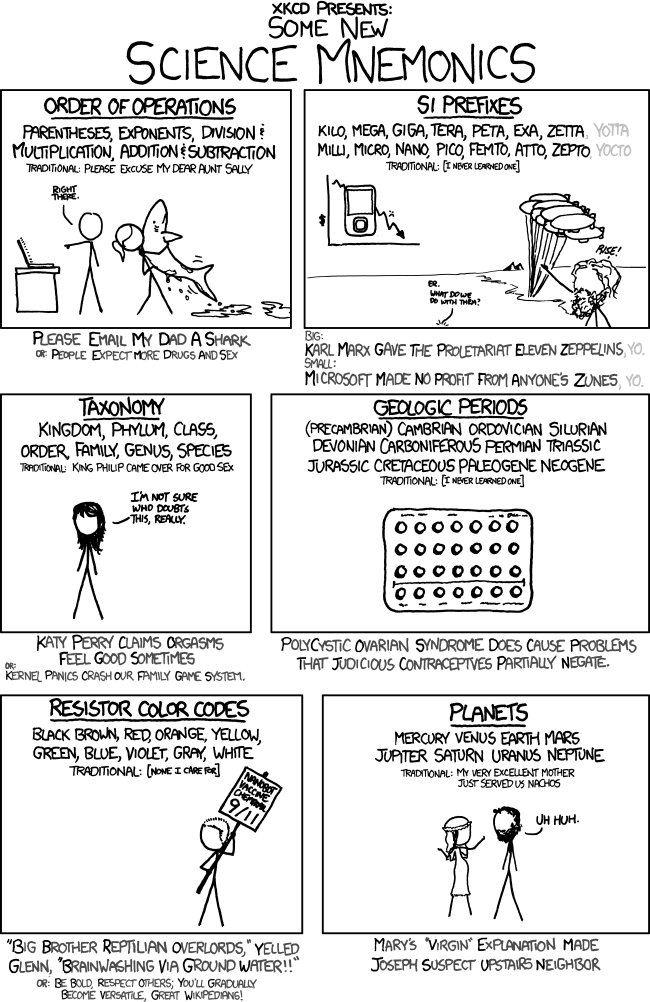 title:
Mnemonics
; alt-text: "
'Sailor Moon's head exploded once' and 'Some men have explosive orgasms' both work for the Great Lakes from west to east (Paddle-to-the-Sea order).
"
What's funny here is that in panel five Randall has carefully avoided a phrase that would have required someone as "sensitive" as Randall to issue a trigger warning at the beginning of the comic between making lite of a potentially tragic condition affecting 5-10% of the female population and proceeding to purposefully attempting to offend Christians in panel six. LOL offensiveness juxtaposition.
As far as reviewing the comic itself... it kinda comes off as a "meh" for me... Making up pseudo intellectual mnemonics was kinda fun in college (and making up dirty ones in High School... or when drunk and in college*)... actually that really explains it... this is the kind of comic you would come up with if you were getting drunk with other "intellectuals" and drawing accompanying doodles on napkins. If anyone reads this comic while drunk could you let us know if its suddenly hilarious? You know... for science?
(note: I never got drunk in college so I am basing my expectations for what people do when drunk, not from personal drinking experience, but on observations of people getting drunk and their depiction in popular media.)