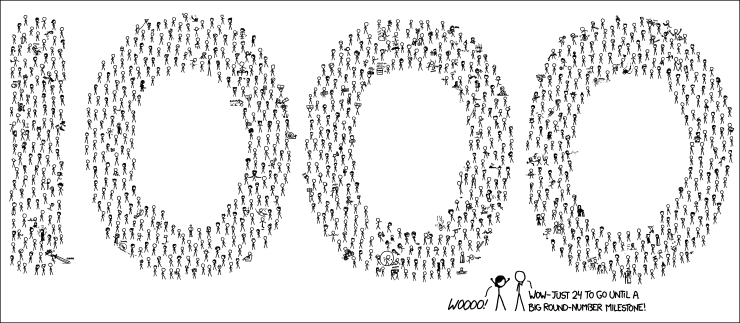 Alt-text: Thank you for making me feel less alone.
Today is a big day for Mr. Randall Munroe. His influential webcomic has just hit the big 1000, and he's celebrating it big style - by drawing a big number 1000 comprised of stick figures that represent the past strips, plus a lame "programmers only know 1024" joke.
...
Alright, I'll try to keep this short, so that the others can state their own opinions. To be honest, I was kinda hoping that Randall would come with something big for his 1000th comic. You know, large format, colors, all the recurring characters (all two of them), maybe a return to the very first strip... But instead, we get this. I have never seen an anniversary webcomic strip this self-congratulatory. Sure, many webcomics love to celebrate regular anniversaries (see every 100th episode of
Order of the Stick
, a vastly superior stick comic), but this is the first time such a comic basically says "Ooh, look at me, I can shit out a crappy drawing three times a week for six years straight, aren't I a cool guy?"
Acosta02
said in the comments for the last article: "XKCD number 1000 can literally only be interpreted as a self-parody, right down to the title text." I wish I could say that I agree, but the way I see it, there is a very real possibility that Randall meant this comic completely seriously.
P.S.: I'm only including the "Mr. Hat" label here because I found him included in the second zero (he's on its 2 o'clock). I didn't find Beret Guy, but I'm sure he's there somewhere, so I'm including him, too.