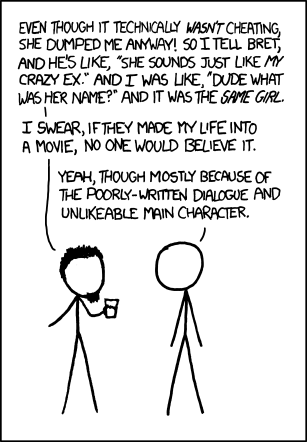 Alt-text: Roger Ebert once called you directionless and unwatchable.
Hello, dear readers, I'm back after two long weeks of no posts. Yay. The reason for this absence is that the last few strips were pretty meh and I couldn't find anything the least substantial to say about them (and apparently I'm the only one who posts reviews here anymore). Not today, though, because we have a doozy that needs to be taken care of.
So this comic is Randall's commentary on the countless "if they made my life into a movie" jokes, as well as a standard "smart
fe
male pwns dumb male" strip. It's strange that the person delivering the verbal smackdown here is a man, but on the other hand since the Featureless Stick Figure screams "author avatar", I can't help but wonder if Randall has unwillingly gotten into a conversation where this line has been said and he only thought of a snappy comeback a few hours later, so he turned it into a comic. See? That's what happens when you draw such a minimalistic comic; people fill the blanks with their own theories.
Although I called the comeback "snappy", it's pretty weak when you think about it. Nobody in movies talks like in real life,
and for a good reason
, and that includes movies based on real stories. Furthermore, it's ironic that this comment made it into one of the few xkcd strips that actually contain somewhat realistic speech.
The alt-text only reinforces my belief that there actually is a real short-haired, goatee'd man that should feel insulted by it. As it stands, it's decent (for once), but Randall just comes off as a jerk. For that reason, I offer an alternate one: "They probably should've left this scene out."
Honestly, this strip might've been good, but the problem is that the only thing I had been thinking after reading it was "You're a douche and I don't care". That, and it's not that funny, clever, or original.