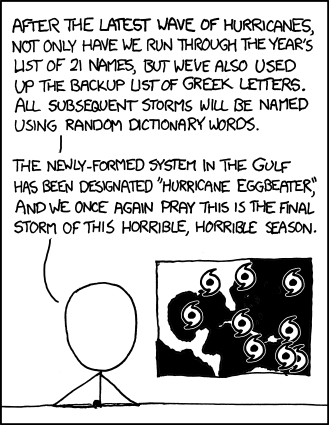 Title: Hurricane Names; alt-text: After exhausting the OED, we started numbering them. When overlapping hurricanes formed at all points on the Earth's surface, and our scheme was foiled by Cantor diagonalization, we just decided to name them all "Steve". Your local forecast tomorrow is "Steve"
Hey guys, did you know that funny == random? Randall sure does! Just throw in some words like "eggbeater" (itself HILARIOUS, provably hilarious) and call it a day! Why waste time with a joke when you can just say, "Oh man, if there were too many hurricanes, the naming conventions would break down and suddenly become WILD AND WACKY"?
To be fair to Randall, Hurricane Irene is still around, so he's at least topical this time. (More like TROPICAL, right? Tropical storm? ...Guys?) Given his past record, I honestly would've expected a comic like this to show up sometime in December. Guess he's improving.
However, that doesn't excuse the flaw mentioned above, or the secondary flaw of just being too darn wordy. Happily, he's buried most of the superfluous text in the alt-text, because by the time you've finished reading through it, the joke has been murdered and dismembered. It's dead. It's like saying, "Why did the hamster cross the road? Because it was tied to the chicken! Ha! Haha! ...You see guys, this particular hamster had been the subject of an awful twine accident involving an underpaid farmhand, a jug of moonshine, and an excess of free time. It all began when..."
Great, we get it. It's not funny anymore. Just tell the joke and call it good, Randall. Quit while you're ahead (or at least not so far behind).
P.S. I've already received one "xkcd Sucks Less" submission for this strip, and, as expected, it does indeed suck less. Great! Keep them coming, people! If you've got an improvement to a particular comic, just email it to me or post it in a comment.