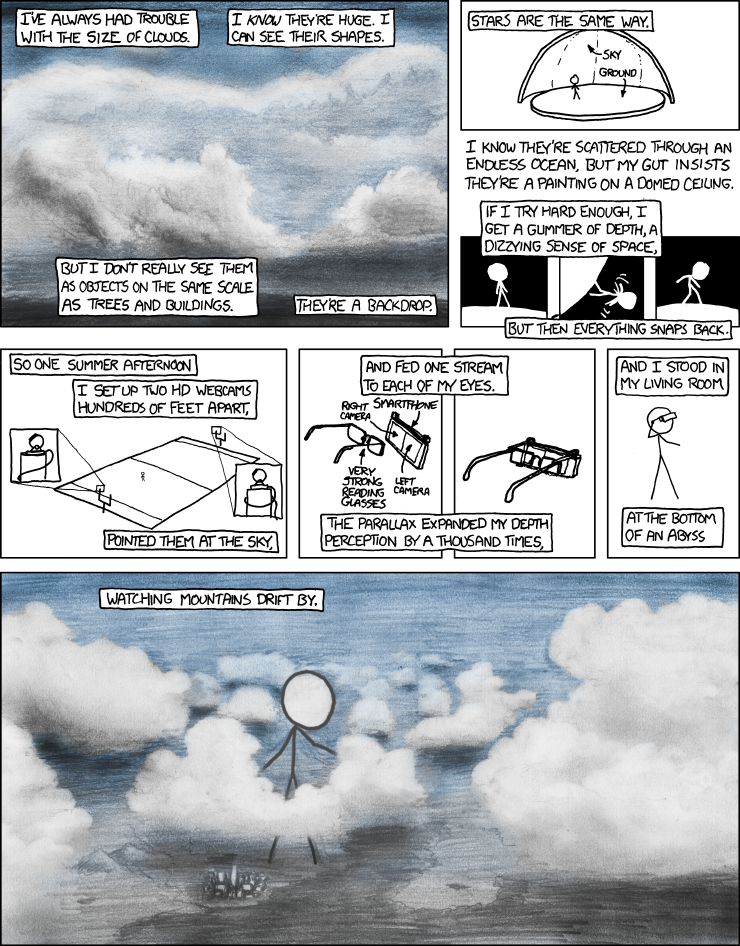 Title: Depth Perception; alt-text: I've looked at clouds from both sides now.
Well, credit to Randall for putting in a good deal of effort this time. The ideas presented are pretty decent ones, the cloud art is exceptional, the glasses diagrams are reasonably well done, and he illustrates the text, instead of just relying on walls and walls of words. Of that, I approve, Randall. Good show.
Now, it's possible that the first and last panels were actual photographs run through a filter. But, the fact that there's doubt (in my mind, anyway) is indeed high praise for the king of the stick figures. I believe he legitimately drew those in colored pencil, and dang if it doesn't look good. Of course, the next question is, if Randall is such an excellent artist, why the heck does he draw stick figure comics? It's just lazy, IMO, but I suppose it's the model that works for him.
Regardless. For the most part, this is a good collection of information. I question some parts of it (which I'll get to later), but overall, it seems alright. However, as you may have noticed, there's no joke. None at all. Now, that's a good deal better than Randall trying to make a joke and failing (which is usually the case), but still, it shouldn't be a comic update. It should go in Randall's (presently imaginary) picto-blag.
For the uninitiated, the picto-blag is a hypothetical section of the xkcd site proposed by Carl "Ugly" Wheeler (the original owner of the original xkcdsucks). It was a proposition that all updates that contain interesting information that Randall's clearly put a good deal of thought and effort into should be consolidated in one blog, rather than taking the place of xkcd. Randall could talk about the concept (because I'm admittedly a little hazy on it) and use these illustrations to go along with it. After all, Randall's not necessarily a dumb guy; he's just not very good at making webcomics.
So much for the picto-blag. However, there are several issues with the strip itself; some are simple disagreements I have with it, and some are odd assumptions (or at least wording) on Randall's part. First of all, yes, it's very hard to get a feel for the true scale of clouds. The difficulty is that there's no "outside-the-box" way to think about them. They're big masses of water vapor, and that's that. Water vapor is water vapor, and it looks the same close up as it does far away.
However, stars are a completely different matter. I tried searching Google Images for some pictures of a clear night sky, but photos simply don't do it justice. If you're out in the middle of nowhere, on a clear night, and you look straight up, the sheer scale of the cosmos envelops you. It's not a painting on a domed ceiling; it's the very definition of infinity, drawing you in until you're lost in its wonder. Why? Because you KNOW that those bright points are planets and suns and perhaps even galaxies. They're not just formless water vapor. There's deep significance to every single point of light, and they're all unimaginably distant. You don't "snap back" until you look at ground. You can't.
The second problem with the strip is the last panel and how it goes against what's being described. Obviously, an improved sense of scale can't be conveyed with a drawing (assuming the technique Randall's describing actually works). But if you're going to try, don't show a guy walking among the clouds! By placing him among them, you ruin the notion of "mountains drifting by." At that point; the clouds aren't mountains; they're suds in an especially soapy bubble bath.
Add to that the fact that no matter how far away the cameras are from each other, they'll never show you what the tops of clouds look like. In other words, the alt-text is meaningless, at least in the context of this strip. The only way to see clouds from both sides is to get above them. Have you done that, Randall? If so, congratulations; you've been in a plane. Welcome to transportation. But of course, that's largely irrelevant to this strip.
Well, look at all that text. Who know that a comic that didn't make me angry could nevertheless cause me to write a 700 word essay? It just goes to show that comics like this can really make you think, and again, credit to Randall for that. Obviously, I had a couple of nitpicks (that's my job, after all), but for the most part, this strip is far and away the best Randall's done in a while. I'm impressed.
P.S. It's worth noting that you DO get a sense of the true scale of clouds when you're flying above and through them, because now the backdrop is the (tiny) landscape below you. Even if you couldn't see that, the fact that clouds are all around you and towering over you
even though you're at 35,000 feet
is enough to give you pause. If you want to get a feel for how massive clouds truly are, don't hang a smartphone from your glasses. Fly.