This is going to be a short post, partly because I'm tired and partly because there's not much to say about the comic. Really, it's times like this that I was Raven didn't quit the blog in her rather...ignoble manner, so someone else could take strips like this. Oh well.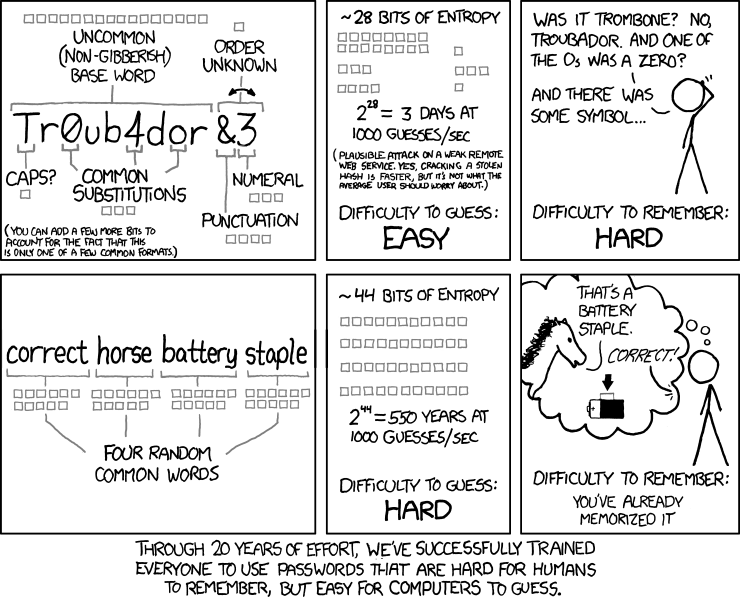 Title: Password Strength; alt-text: To anyone who understands information theory and security and is in an infuriating argument with someone who does not (possibly involving mixed case), I sincerely apologize.
This isn't good comic material, but it might just be good picto-blag material. It's kind of interesting information (whether it's accurate or not, I can't say), and it's clear that this is something that Randall likes and that he's willing to put some effort into. It's not funny, but he's not going for funny, so we'll let that go this time.
The caption is misleading, simply because for most of those twenty years, passwords that were hard to remember were also hard to crack. However, aside from that, the only real gripe I have with this strip is the know-it-all attitude Randall has about all this. The second parenthetical sentence in the second panel feels (to me) like his "Yes, centrifugal." remark in
strip 852
. It's just another way of saying, "I know what you're thinking, stupid plebeian reader, and I'm way ahead of you." And in the alt-text, when he says "To anyone who understands information theory and security," I can just hear the unspoken "like
ME
" after it. Yes, we know, Randall. Not everyone has the same domain of knowledge as you. Get over it.