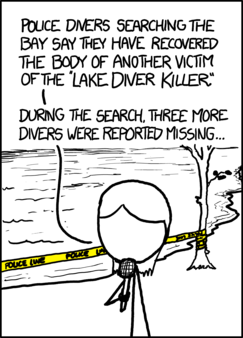 Title:
Umwelt
; Alt-Text: "
Umwelt is the idea that because their senses pick up on different things, different animals in the same ecosystem actually live in very different worlds."
So yesterday I went to the xkcd.com site and saw a comic (this was April 1st) and today I went to xkcd.com while connected to my office VPN and saw a comic with the same title and alt-text... but a different image. I clicked back and forward and refreshed a few times and then decided it was time to check the forums...
Forum Thread Discussing the "Gag"
We now know why xkcd has sucked so

blandly

in the recent past... never quite bad enough to incite rage or good enough to love. Randall must have been working on all the variations and scripts to generate a unique xkcd experience for every visitor... frankly I can't help but giving kudos to the guy... he really HAS been screwing with us and now we know WHY!