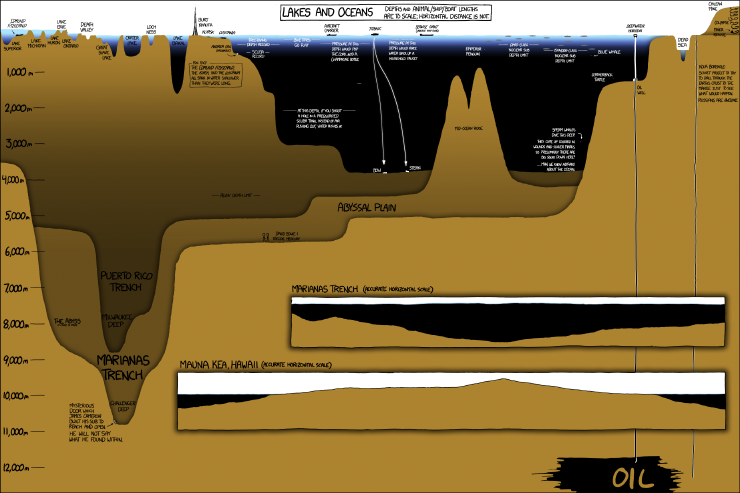 Alt-text: James Cameron has said that he didn't know its song would be so beautiful. He didn't close the door in time. He's sorry.
Oh, look, another poster comic. Someone needs more money. Hint hint.
Sarcasm aside, since there's not much to review about today's comic, I'd like to talk about why exactly Randall's practice of creating these "merchandise bait" comics seems so reprehensible to us xkcd haters (or at least to me, anyway), and I'll use... hmm, let's say
The Spoony Experiment
, as an example.
So, here's how internet merchandise usually works: A creator introduces an element to his work that the fandom really enjoys, usually to the extent of becoming a minor meme in the fandom. Now, either a fan posts on the forum "I want to have X on a T-shirt" and is meet with approval of his peers, or the creator himself thinks "Gee, they really enjoy X. I better put that on something". The important part here is that said element wasn't created with its merchandising in mind. That only came about later as a way for the fans to support their favorite work
and
get something they'd enjoy in return. Take TSE's "Giant Dizzy Gillespie". That comes from the time when Spoony intorduced his figurine of said musician in a couple of gags and it completely stole the scene. "I heard that, Curtis", "You're in my way, sir" and "Fuse Box #42" are various running gags, "Doctor Insano" is a recurring character on the show, and many more relate to various works The Spoony One has reviewed.
And that's why I hate comics like this one. Merchandise should be introduced because the fans want it, not because the creator thinks he should have more money. And yes, I do realize that some (or most) of the stuff in the xkcd store fits the description of "merchandise done right" above, but does that really excuse this poster bait?