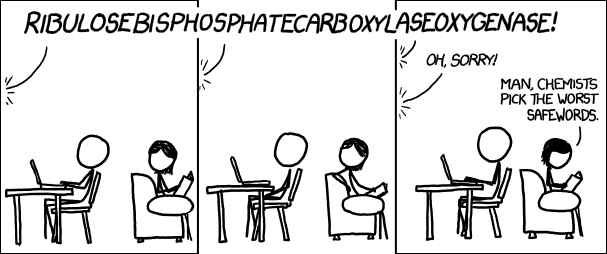 Alt-text:Bruce Schneier believes safewords are fundamentally insecure and recommends that you ask your partner to stop via public key signature.
Aren't the SM folks strange? They just treat someone like crap for whatever reason and when that other person has had enough, they say a "safeword". Man, wouldn't it be funny if someone had wacky long safeword? Like chemists, they do have super long words, don't they? Man, this is comedy gold!
No.
No, it isn't. It's not even remotely funny*. Look, there's a difference between chemistry jokes and jokes about chemistry, the distinction being that the former is what a foolish person would expect from xkcd and the latter is completely dumb.
What baffles me is the unseen context of the comic. Is the SM couple in another room, or are they in the other half of the same room? Why are they doing their thing in the vicinity of Randall and Megan? Or, rather, why don't Randall and Megan mind them? What the fuck is going on? I mean, judging from the armchair and the computer, this is happening at someone's house, which means that they're doing whatever they're doing either while they have visitors or while they're visiting someone else.
Das ist nicht normal.
----
*Mistyped as gunny at first; I first considered leaving the typo in, but the comic actually is gunny, as in I'd like to shoot someone in the face.