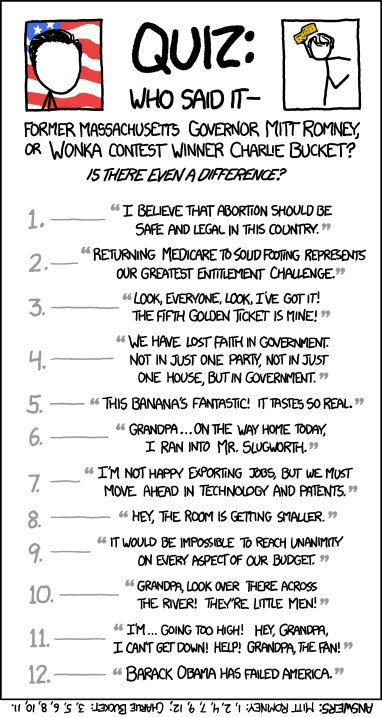 Alt-text: Charlie actually delivered the Medicare line almost verbatim in the 1971 movie's Fizzy Lifting Drink scene, but it was ultimately cut from the final release.
I have to start this review with an admission: I don't live in the United States. I'm a European, so a lot of your political statements only make vague sense to me, and I have no idea who most of the well-known American politicians actually are. In other words: Ha ha, you are all dumb because you live in a different country than me!
So there are these "quizzes" that usually compare their authors' unfavorite politician to either a cartoon character or a hisorical villain (guess who the most common one is) through a list of quotes by both, that is supposed to show that said quotes are difficult to connect to the correct figure, and therefore the things they both said are basically the same.
Of course Randall, being who he is, immediately though that it would be unconventional to the point of Hillarity to do the same thing, but instead of comparing someone named Mitt Romney (seriously, who IS that?) to Adolf Hitler, use a fictional child, say, Charlie from that chocolate factory flick.
Do I even need to explain why this is stupid? Okay, here's the thing: Political satire usually tries to convey a message. It may be stupid, or even wrong, but it still says something the author deems significant. Here, the only message I can see is "The former Massachusetts governor is completely different from a child character from a kids' movie", to which I can only say "Well, DUH."
And that's the problem with today's strip. It has no meaning when it should. It is satire that satirizes nothing, except maybe for Randall's inability to come up with a good comic.
Oh yeah, and the alt-text is dumb. Heard that joke a million times, and a million times better at that.