Still laid up from my injury, which means xkcd remains one of the last things on my mind. Again, I don't have much to say about either Wednesday's or today's strips, but they do both suck.
Comic 969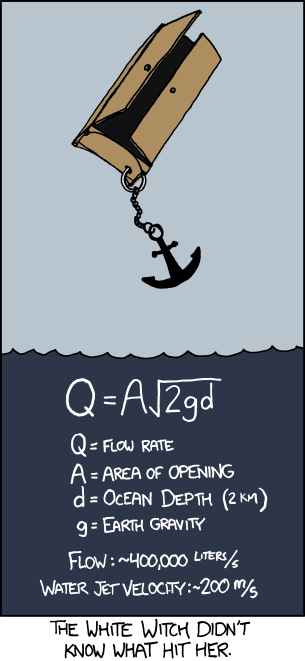 Title: Delta-P; alt-text: If you fire a Portal gun through the door of the wardrobe, space and time knot together, which leads to a frustrated Aslan trying to impart Christian morality to the Space sphere.
Oh geez I hate this one. Absolute best case for this strip: Randall's equations work, Narnia gets flooded, and the White Witch dies. OH WAIT, AND SO DOES EVERYONE ELSE. That's like saying we could have prevented the Holocaust by killing everyone in the world. Hitler would be gone, so no Holocaust, right?
Stupid, stupid, stupid.
My next objections might be considered nitpicks, but dang it, Randy put all his equations right on the comic, so he apparently cares about that kind of detailed analysis.


It's not raining so there's no portal.


The pressure might just close the doors of the wardrobe, meaning that no water ever gets in.


Even if the doors remain open, shouldn't the air and everything else in Narnia simply stop the water from filling it? To see what I mean, invert a cup and push it into some water. Notice how there's still air inside the cup?


But okay, let's assume water does make it in, Still, time is completely different in Narnia, so the water would just trickle in, rather than the torrent Randall expects.


What the heck do you mean, "space and time knot together if you fire a portal gun through the door"? The door IS a portal! You can't fire a portal gun through an existing portal!


Seriously, Randall. THINK a little before you post garbage like this.
Comic 970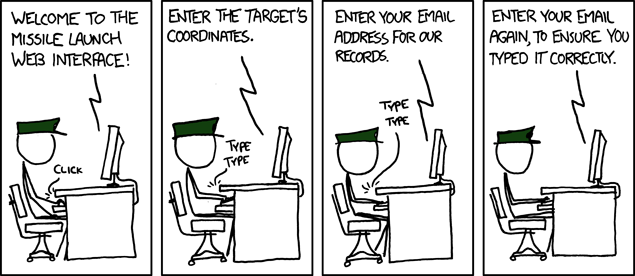 Title: The Important Field; alt-text: I hear in some places, you need one form of ID to buy a gun, but two to pay for it by check. It's interesting who has what incentives to care about what mistakes.
This is a straw man attack if I've ever seen one. Yes, most registration forms require you to enter your email address twice. You know why? BECAUSE IT'S THE MOST IMPORTANT FIELD. If your email is wrong, you don't get registered. Now, compare that to something like the comments box for this blog. You're asked to enter your email once. You know why? Because it's NOT important! Who cares if your email is wrong there?
The situation in this strip is a total fabrication. It's so contrived it hurts. THIS WOULD NEVER HAPPEN. It's like saying, "I really think the US government should take down freenuclearsecrets.gov. How stupid are they to just offer that up to anyone?" He'd be making a good point if that was how things worked, but IT'S NOT.
I think there's a lesson we can all learn from this: Don't be a retard, Randall.