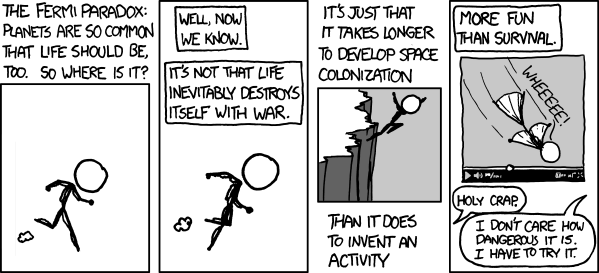 Title: The Corliss Resolution; alt-text: And no avian society ever develops space travel because it's impossible to focus on calculus when you could be outside flying.
I get what Randall is trying to say here. Problem is, it's wrong. I'm not trying to nitpick here; I'm really not. I know that sometimes you have to make some allowances for the sake of humor. But I can't do that in this case. It's just so blatantly false that I can't even consider the attempted joke.
To begin with,
wingsuits
are not new. Decent ones have been around for about a decade. Randall acts like he's just discovered the answer to Fermi's paradox, when in reality, if this was the answer, we would have had it for at least ten years.
Of course, this isn't the answer. High-adrenaline activities have been around forever (it's worth noting at this point that wingsuit fliers still have parachutes, so it's no more dangerous than basic skydiving). However, that rush and that sense of achievement will never be more "fun" than survival (except in
very rare cases
). Besides, thrill-seekers and scientists are rarely the same people.
The alt-text takes Randall's fallacy even further. To avian societies, flying would be commonplace. It's only special to us because WE CAN'T DO IT. You don't get a thrill from driving your car, do you? Of course not. Most people do it every day. But to someone who's never done it, it might be very exciting (just ask your dog).
The main problem with this strip (or really, most of xkcd), is that there's no self-awareness. There's no feel of "this is being said tongue-in-cheek." Obviously it IS (I really hope), but even if I give Randall that, it still seems like he thinks he's the first to ever come up with that idea. It would be like if Wednesday's strip talks about how McDonald's is going to have some booming business now that so many cats "can haz cheezburger." It's a half-kidding response to an old thing as though it were new, and that's just not funny.
--
P.S. I've stopped doing "xkcd sucks less" because it just didn't get enough attention. A couple of weeks were really good, but lately I've just been getting submissions from SinbadEV and no one else. Maybe I'll try again once the blog gets bigger.