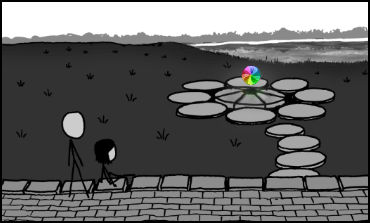 Title: Eternal Flame; alt-text: There's always the hope that if you sit and watch for long enough, the beachball will vanish and the thing it interrupted will return.
I held off on reviewing this because I thought that maybe, MAYBE, Randall would do his tribute on Thursday and post another update on Friday. Silly me.
Still, what's to say about this? Not much. It's well done. It's simple. There are no wasted words, no forced punchlines, no irrelevant setups, no art failures, no nerd pandering, and the timeliness is spot on. It reminds me of classic xkcd, before Randall started trying too hard.
It's a good comic.