Yeah, yeah, worst backronym ever. Too bad.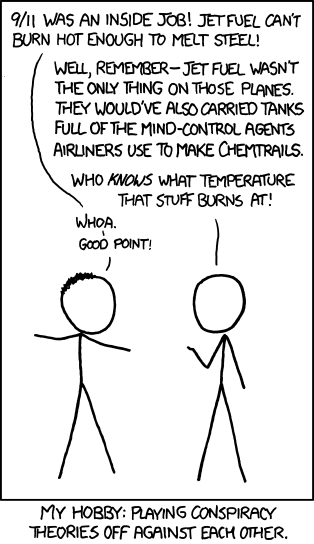 Title: Jet Fuel; alt-text: The 'controlled demoliton [sic]' theory was concocted by the government to distract us. '9/11 was an inside job' was an inside job!
Well, this being a "My Hobby" comic, it means that Randall avoids his usual pitfalls of long, convoluted setups and post-punchline dialogue. This being xkcd, it still sucks.
This isn't much of a comic, which means that this won't be much of a review, either. 9/11 jokes are just old now (it happened TEN YEARS AGO), and this one isn't especially funny. It's an okay (if utterly pointless) idea, but that's the best I can say about it.
Sorry I don't have anything else in this review, but I've been starting at the blog editor off an on since I got into work today, and this is the best you're going to get. Maybe next time.