Raven has apparently committed internet suicide, so I guess I've got to do the reviews from now on. Lucky you.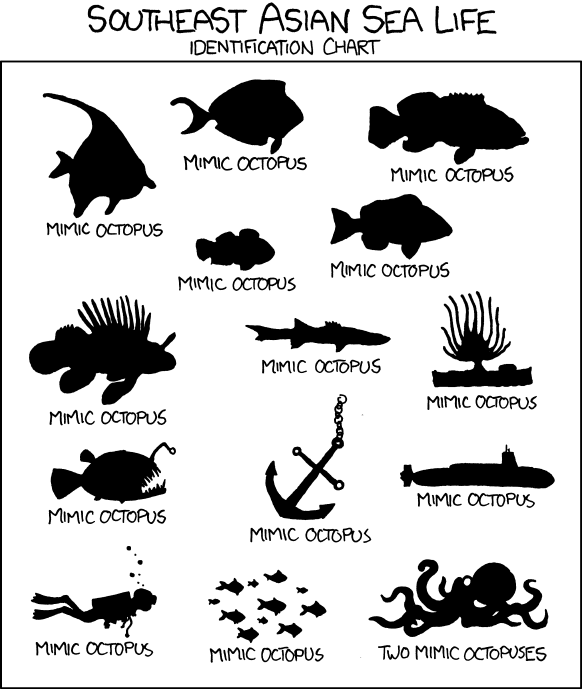 Title: Mimic Octopus; alt-text: "Even if the dictionaries are starting to give in, I refuse to accept 'octopi' as a word mainly because--I'm not making this up--there's a really satisfying climactic scene in the Orson Scott Card horror novel 'Lost Boys' which hinges on it being an incorrect pluralization."
Okay, I'm going to say it right now. I don't GET this. It LOOKS like Randall drew a bunch of silhouettes and called each a "mimic octopus." Right away, that's not funny, but whatever, that's only the setup, so maybe it'll get better.
Oh.
No, that can't be.
REALLY?
Is that REALLY the joke? That two mimic octopuses look like a single real octopus? WHY?
Look. Immediately prior, there was something that COULD'VE been funny, where you have a single octopus mimicking a whole school of fish. Humor is about exaggeration, and that might not have been a bad way to go. How would it work? Man, I don't know, maybe some guy goes to the aquarium section of the zoo, sees all sorts of sea life, and asks a zookeeper how many animals they have there. He answers "Oh, just one mimic octopus." The alt-text could be, "Actually, there are two mimic octopuses, and he just talked to the second." Is that funny? I don't know, but then again, THAT'S WHY I'M NOT WRITING WEBCOMICS.
I guess I don't understand the attempted subversion. Maybe if the final picture was captioned "Common Octopus," there could have been humor. That's a mimic, that's a mimic, that's a mimic...oh, and that's a real one. Again, I don't know; I'm not a comedian. But why do two mimics look like one normal one? I checked the forums briefly, and no one there gets it, either. Wow. Way to fail, Randall.
The alt-text really bothers me, too. The main reason you should be refusing to use "octopi," Mr. Comic-about-language, is that it's WRONG. No one cares how many nerd points you think you've scored with your stupid Orson Scott Card reference.
Seriously, Randall, get a clue. And then get a sense of humor. And some artistic ability. And a work ethic. Some social skills couldn't hurt.
But most of all, GET OUT OF THE WEBCOMIC BUSINESS.