...is that context is never an issue. Most people take issue with this.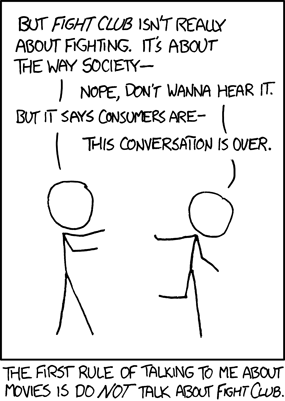 Title: Fight Club. Tooltip: I'm not saying it's all bad, but that movie has not aged as well as my teenage self in 2000 was confident it would.
This "comic" is short and so too will be this review. Not "XKCDexplained" short, but simply put the problem here cannot be made more apparent by going of on an angry tangent full of angry ranting about angry problems, but that is not what I am here to do.
Why? Because this "comic" does not fill me with any sort of anger, rage, hatred, fury, scorn, or sense of mortality.
This "comic" is an opinion. Randall doesn't like talking about the Fight Club movie from 1999 starring such drop-dead gorgeous and stunningly talented actor(s) and actress(es) as Brad Pitt, Edward Norton, and Helena Bonham Carter.
Google Image doesn't seem to be working for me right now, so in lieu of sexy pictures of the aforementioned actor(s) and actress(es) here's an image from my photobucket of the Anger I cannot invoke in response to this comic.
-Ravenzomg
Sexy stuff there! I can barely contain myself.
"But Ravenz", you argue, "The caption is parodying that other line everyone knows! That makes teh funniez"
The caption is a clear parody of the line from the film stating that the first rule about Fight Club (the club) is that you don't talk about Fight Club (the club). That is correct. But we're talking about turning around a phrase nearly 12 years old and doing nothing particularly original or particularly exceptional. This brings me back to my point: This is an opinion. It is an opinion -- and it is a good opinion -- that we should leave Fight Club in the past. It was a good film, but please, let's stop analyzing it. He has then proceeded to wrap the opinion in a comic roll, thus fulfilling his quota and gaining support through "Agreement Chuckles". I agree with him, but I am not chuckling. Not at all.
The generous among us would say that Randall is upset with people for talking about Fight Club (the film), thus violating the very first rule of Fight Club (the club), which is not to talk about Fight Club (the club, but in this case the film) but these people are idiots who don't understand that words and phrases can have more than one connotation and the confusion of reference is not clever, it's
just idiocy
.
I'm going to critique the tooltip with ungenerous detail, because it's a mix of "GOOMH!" and unexciting reiteration of the comic: phrasing awkward as hell. BLEH!
And to close things up, returning to my very first line: Void Creature 1 keeps saying, "But [such and such] was X, not Y!" which demands that Void Creature 2 (the narrator) brought up some suggestion that it WAS Y. But if he doesn't like being talked to about Fight Club, why bring up Fight Club in the first place???
Alternately, Void Creature 1 doesn't understand social behaviours and cues, so he makes assumptions about what other parties believe in order to rant and finish arguments no one started because to him this seems like a way that regular people regularly interact in a regular setting.
SOUND LIKE SOMEONE YOU KNOW?