Hello you cretinous crustaceans, this is Time Raven of
Time
Raven
fame and it looks like you're stuck with me all week because Gamer is off in Holland fixing the Dutch version of the internet, or the "Nethernet" as I believe they call it. The week following Raven's Week of Folly is an adventure in questionable decisions as we let Ann take over for the three updates between the 25th and the 29th. Alternately, if any of you feel particularly enraged kindly send a review to Gamer at gamer2k4[at]gmail[dot]com and he'll maybe post it if it's good. If no guest post appears within 36 hours, that's Ann's cue to write up a filler and/or review! I don't really care either way since I won't be interfacing with web-based technology for a good 6 sequential days.
I'll be rejoining my aquatic-based ancestors in
the Deep
of the oceans, preparing for the eventual re-emergence of the Dark Order to summon the Gods of Old who will bring their wrath to this World and the puny, flesh-covered Residents that call it theirs. And I guess Gamer will
still
be fixing the Nethernet. It's pretty damn complicated I hear. Anyways, that's our programme for the next two weeks, after which we'll resume our schedule as normal until Randall Munroe quits or my Masters decide to end Time and Life as we know it.
So, let me start by saying this. This concept is entertaining. The idea of a Time Vulture is kinda cute in a non-sensical way.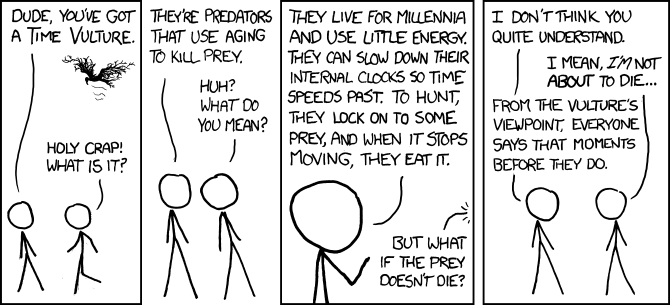 Title: Time Vulture. Tooltip: In a way, all vultures are Time Vultures; some just have more patience than others.
However, the fowl gem of brilliance is buried beneath foul refuse of verbosity. This comic is a 4.9 on the Ravenzomg scale of Wordiness™. For our British and Commonwealth readers, that's a metric shit-tonne of words for a comic that small. Note that the last three comics in reverse were a 3.5, a 2.25, and a 2.5. For even more reference, here's a series of comics from the late 800s rated by word density.
Anyways, I could spout numbers at you for ages, but the bottom line: There are too many words in this comic.
And some of them are just weird.
"They live for millenia and use little energy".
That's sounding really unnatural. Also the first panel, "Dude, you've got a time vulture!" "Holy crap! What is it?" ....It's a time vulture, fucknuts, he just told you. I think he means to say "What's that" or more wordily "What's a time vulture?" which would be okay given that, upon hearing about time vultures, I'd want to say "time vulture" as much as I possibly could on account of "time vulture" being a pretty cool concept. Time vulture. Or, just swap the dialogue.
Also, the punchline is pretty awful. I'm just saying, if you're going to mention the ultimate "killer", you're only setting yourself up for a macabre end, or a disappointment. Guess which we have here.
I mean, let's try this.
Open to opinion whether this punchline is better, but I hope you'll admit that the dialogue is at least slightly less painful.
And the heart of the matter: I feel like Randall has just watched a certain TV Series again,
one episode
in particular.
Ask any Doctor Who geek, and 90% of the time you'll get "Blink" as their favourite episode. This is how it works. The concept of an ancient creature killing you by just letting you age is pretty terrifying. Hell, out of the first three seasons it was rated the second most terrifying only behind the episode which focused on the antics of
the living and original Devil.
This concept is pretty cool, and sadly it's been wasted here.
....Business as usual.