...
This is Ravenzomg with your review of this
thing
about this thing called
"YouTube Parties"
which I'm sure you are all aware of/active participants in.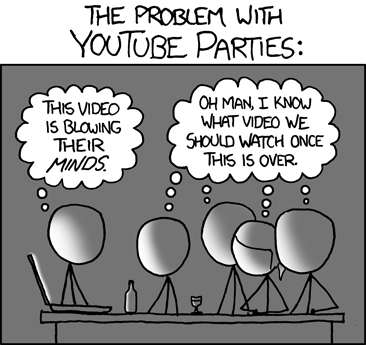 Title: YouTube Parties. Tooltip: That reminds me of that video where ... no? How have you not seen that? Oh man, let me find it. No, it's okay, we can go back to your video later.
So. It's July 1st and three of us are waiting around at someone's place between "events" in the course of our National Celebration.
And I can't get this song/animation out of my head, so I suggest we look it up.
My friend then suggests, "oh, there's this 5-second film you have to see..."
Long story short, everyone thinks their interests are the shit. Everyone. And this comic communicates this idea.
This comic is like a thing that happened.
Like.
Okay, I don't want to stray into ad hominem attacks. But my complaint about this comic is the concept of
"YouTube Parties"
. In my anecdote, we ended up watching four videos for a grand total of maybe 8 minutes before deciding to watch the pilot of a children's show from the early 2000s, and from there we ended up going downtown for various Festivities.
But he's created this idea of the
"YouTube Party"
, where a group of people (here there are five of these Void Creatures) gather and watch videos
as the Title Event
. They plan it enough to turn off the lights to watch (Randall has put in the effort of shading to show us that this is, indeed, in the dark).
So this opens up two venues:
1) This
"YouTube Party"
is a real thing that exists, and people ARE in fact this awful and lame.
2)
"YouTube Party"
is a made-up thing and Randall had to create this bizarrely anti-social situation to illustrate a point that is pretty unambiguous.
I can't touch 1 without calling boring people boring, and I can't touch 2 without saying something you've all heard in 918, namely, "Why don't you understand human context".
Sooo, let's change tact.
Notice that he says
"YouTube Parties"
as the title, and then "titles" the comic in the image "The Problem With
YouTube Parties"
. Now, I understand some people only get the image and not the title.
But does Randall actually need to spell it out? It's as if he's afraid we won't "get it", and it's honestly the sort of redundant condescension that borders on "irritating".
Is there any ambiguity about the setting here? There's a group of people around a laptop; a bottle and glass are on the table; the first figure mentions that they're watching [or will watch] a "video", and the punchline takes off from there. The fact that it may or may not be a
"YouTube Party"
is just needless name-dropping baggage, especially given that YouTube is the third most popular website on the internet and when people below the age of 30 say "video" in connection with a computer, you probably think
"YouTube" [minus the Party]
all on your own.
Randall used to get the idea.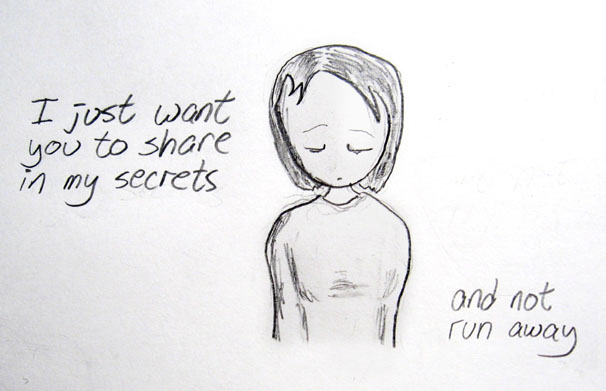 Don't let the presence of a human-ish figure fool you, this was comic#46. He didn't put on a caption "The problem with being Emo" or whatever, he let it stand on its own and make its statement!
The tooltip just elaborates on the joke in a slightly different way, but a) that's par for the course and b) the tooltip, if unoffensive, is basically a "freebie" anyways.
So all in all, he has nice potential in this comic, but he's SMOTHERING IT. There is a talented man in there somewhere, and he I still believe deep down that he just needs an editor to help him escape.