Man, I was hoping for a break. I really was. I spent a ton of time writing two reviews, and I was kind of counting on Randy to serve up something boring so Raven could have her turn. Instead, I got this: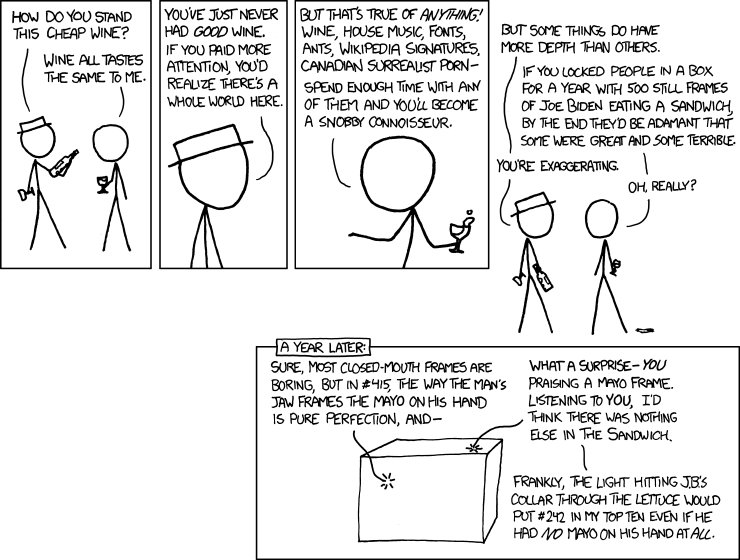 Title: Connoisseur; alt-text: Our brains have just one scale, and we resize our experiences to fit.
It's boring, yes, but it's boring for the wrong reasons. This isn't some one panel strip that Randall tossed out at 11:59. No, instead we're taken on a journey through five panels where Randall systematically blows past opportunities for legitimate jokes or criticism and falls on his face in Joe Biden's mayonnaise. Yes, it's as unpleasant as it sounds.
The first two panels are absolutely fine. Some snobby guy gets all high and mighty about wine and someone else is set to take him down a peg or two. So what does Randall do? Does he go the scientific route and cite
experiments
that prove how subjective wine tasting is? Nope! Rather than have the guy say, "If YOU'D pay more attention, you'd realize that your hobby is a complete sham," Randall has him AGREE with the connoisseur. Add a tally to the "missed opportunities" column.
And this is the point where the strip starts to lose its focus (or gain it after being completely out of focus; I'm not sure which it is and I'm not sure it matters). Hat Guy makes a legitimate point that some things have more depth than others. This is TRUE, but it's also an opportunity for Randall to say, "Yes, and as far as that goes, wine tasting is ridiculously shallow." Okay? Randall's made no secret that he's an elitist when it comes to math and science and things of that sort. He likes tearing apart things he thinks are stupid and "less pure" than math. So why doesn't he do it? Yes, serious connoisseurs can be pretentious and make much too big a deal about things that don't deserve the attention. Wine tasting is especially egregious in that regard. But instead of calling them on it, Randy plays their game; rather than saying, "Your field sucks and I can prove why," he says, "Your field sucks, but so does everything else."
It's not the first time this has happened in xkcd. Randy sets up a straw man, but attacks it so clumsily that I find myself SIDING WITH THE STRAW MAN. That shouldn't happen! His approach is unnecessarily self-deprecating, and it totally misses the point. Unfortunately, that "missing the point" is what moves the comic forward, so I guess we might as well hang on for now and see where it goes.
So, instead of taking the opportunity to turn Hat Guy's point against him, Randy makes a nonsensical comparison. Here's where the comic gets completely out of control. He suggests locking people in a box. Instead of saying, "No, that's a stupid idea," Hat Guy CALLS Randy on it! He might as well be saying, "Prove it. Prove that locking people in a box with Biden photos will make them snobby connoisseurs." So we've gone from what could be a solid subject for decent ridicule (wine tasting) to a bunch of nonsense where a character ACTUALLY LOCKS PEOPLE IN A BOX FOR A YEAR.
This in itself isn't awful, strictly speaking. This is xkcd, quirkiness abounds, etc. etc. But it doesn't make sense! This isn't Mr. Hat. This is just some random guy (I've been calling him Randy, but he might be anyone.) He goes from (ostensibly) being the voice of reason to being the hand of insanity. There's a bit of humor in how far overboard the guy will go to prove his point, yes. But it's a point that doesn't need to be made! It's a point that only results from a series of missteps and bumbled opportunities for something better.
And I think that's the downfall of this comic. It's not the first time this has happened. Randall has a punchline, a situation that he finds funny. And yes, there's something inherently funny in a bunch of idiots arguing over pictures of Joe Biden eating a sandwich. But it's funny because it's someone ELSE. Unfortunately, Randall doesn't know how to set the situation up, so he fights his way to the punchline, and ultimately says, "Yeah, everyone is like this. THIS COULD BE YOU." This is the same reason I hated
Comic 906
. He shows us a stupid person in a stupid situation, but instead of letting us have a good laugh at that person's expense, he says, "Yeah, that's you. You're the stupid one." Look, I don't mind self-deprecating humor. I have tons of faults that are worth poking fun at. But I DO take issue with self-deprecating humor that DOESN'T APPLY. Sure, laugh at me for being a goofy guy on the internet who makes too big of a deal about a webcomic. Whatever. Doesn't bother me, because it's TRUE. But once the joke becomes, "Hey, did you hear about the time Gamer asked where the 'any' key was? What a moron!" I take issue with it. I KNOW where the 'any' key is.
P.S. It's a nice touch that the guy gestures so wildly in the third panel that he spills his wine. Unfortunately, that's all the good that can be said about this strip.