Gamer_2k4, reporting in. The original plan for this blog was for Raven to review the weak, boring strips, and for me to take on the ones that really irked me. I figured, knowing Randy, that I'd get some nice downtime. I was wrong. Randy has seen fit to give us complete garbage twice in a row, so that means I'm on the job twice in a row as well. Here goes.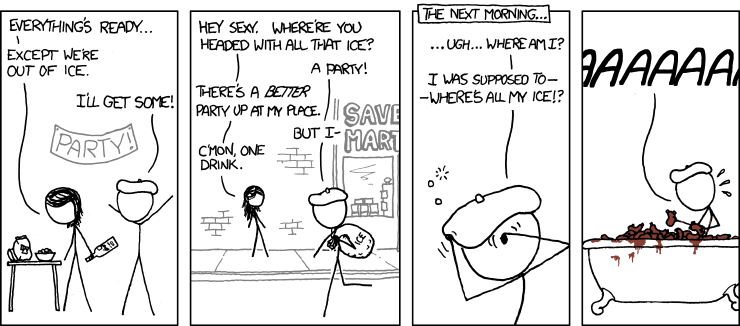 Title: Ice; alt-text: On the plus side, she wrote 'Welcome to the AAA Club!' in lipstick on the bathroom mirror, and left me a membership/roadside assistance card on the counter.
Well, my first thought upon looking at this was, "Oh hey, it's Megan and Beret Guy. This is going to suck." That's xkcdsucks' influence on me, I guess, because my first thought SHOULD have been, "Really? A banner that just says, 'PARTY'?" I'm not sure which way to be angry about this. Is it that Randall thinks we're too stupid to realize what's going on? Is it that he understands his art is awful enough that the stick drawings alone can't convey a real scene? (Actually that's something else that bothers me. More on that in the next paragraph.) Or is it that he just has no clue that "show, don't tell" is actually a thing that decent writers (and ARTISTS) should have a grip on? And you know what? We don't even need to be told it's a party. Who cares? Beret Guy needs to get ice. That's all we need to know.
I think that's all for the first panel. That takes us to Panel 2, where there's a LOT more to hate. Remember what I said about Randy's art being too awful to present a scene? Well, the thing is, it doesn't HAVE to be that way! Look at the second panel! A sidewalk! A street! A store with brick walls, a sign, and stuff inside! PERSPECTIVE! So Randall CAN draw, and he's just too freaking lazy to do it!
And boy, that really irks me. Why? Because he has his priorities all wrong! When it might be important to establish a setting, the best he can do is give us a freaking sign that says, "PARTY". When the setting doesn't make a darn bit of difference, he goes all-out in drawing it. I just don't even know what to say about that. It's mind-numbing. It leaves me speechless. How can someone write a comic strip (and I use the words loosely) for YEARS and not figure something like this out? You know one reason why I hate xkcd when I used to like it? It's because Randall is REGRESSING. He's not getting better, and he's not even staying level. He's going downhill, and he's going fast. Every day amazes me with how deep he manages to dig this cesspool.
Okay. For the second time in as many strips, I need to actively force myself to calm down. That's something I'm not used to. Relax, Gamer...
Let's put the art behind us for now. (It'll be back.) What else is wrong with the second panel? Well, how about the dialogue? Or rather, how about the situation in general? Why is Beret Guy walking in the middle of the road? Why is the girl pitching her "party" to random passersby? Do people, even people with ulterior motives, even do that? Would anyone listen and think anything other than, "I should probably keep moving"? Is Beret Guy really swayed by the "hey sexy" line? Well, to be fair, that's probably all it would take to get Randy to follow her, so I guess I can see where the notion came from. And Beret Guy is known for being kind of clueless, so maybe I'll let that slide. Still, the situation feels awkward to me. There's got to be a better way to set up the punchline.
Panel 3 isn't bad. For xkcd. You can kind of see what's going on, and for stick figures, that's good. Well, it's tolerable. Moving on.
Ah, Panel 4. You confusing mess of non-humor. What's going on here? Couldn't Randy have channeled the artistic effort in Panel 2 into this one instead? Maybe then we wouldn't have forum posts like:
"are those kidneys or weenies in the bathtub?"
"or is it shit?"
"I thought it was bloody ice. did he get his organs harvested or something?"
"Are those potatoes?"
"Weenies, in cocktail sauce."
No joke, those are the first five responses to the original post. Wow. Really, Randy? You can spend time filling in BRICKS on a freaking STORE WALL but you can't draw the panel with the actual PUNCHLINE in a manner that people can understand it? Can you imagine if he didn't use color? Oh, and that's not to mention that the punchline is, "Hey guys, instead of stealing kidneys and leaving the Beret Guy in a bathtub full of ice, she stole his ice and left him in a bathtub full of kidneys. It's an inversion of a not funny concept and therefore is funny!"
Well...no. "A bar walks into a guy" isn't funny, is it? You have to work harder than that, Randy. Randomness is not the same thing as humor. And, okay, there's a bit of a subversion of expectations at work here; you're expecting something terrible to happen to Beret Guy because he's functionally retarded and accepts offers from random strangers, and something rather quirky and innocuous happens instead. But if you're going to do that, it has to be punchy! It has to be instantly obvious to the reader what's going on. If they spend two minutes staring at the panel trying to figure out what's going on, like I did, the reaction is going to go from "haha, lulz" to "Uh, that's just stupid."
And sadly, we're not done yet, not even after a 1000 word blog post. There's still the alt-text to deal with. I admit I didn't get the reference at first, but the same trip to the forums that got me the above quotes also pointed me to the
urban legend
that the text is referring to. On the plus side, it does exactly what alt-text is supposed to do; it provides an additional, relevant joke that's not simply an explanation of the earlier punchline. Unfortunately, the alt-text suffers the same problem as the last panel: readers probably aren't going to get it right away. They'll have to look it up or ask someone before it makes any sense. You know the phrase, "It's not funny if you have to explain it"? Yeah. It's not.
Now, one thing that gets me about this joke in general is that it seems to be set up for one of his recurring characters, either Mr. Hat or Beret Guy himself. (It's actually kind of a problem that I can't figure out who it would fit better). On the one hand, Mr. Hat seems like the type to cook up an elaborate plot like this (bathtub full of kidneys? really?), where the preparation outweighs the actual effect. On the other hand, Beret Guy seems like the sort to be all "lol randumb" and simply invert the expected kidnapping situation. But neither happened. Beret Guy was in the comic because he's stupid enough to fall for a stupid trick like this. It's a waste of a character.
Really, this strip is just one massive miscue for Randy. He explicitly describes a scene that doesn't need it, puts detail into a scene that doesn't need it, doesn't put enough detail into a scene that DOES need it, forces the readers to do research for a punchline that needs to be gotten quickly or not at all, and puts in characters but doesn't make the most of them. It's a jumble of misplaced priorities that adds up to four panels of complete garbage.