Good evening to one and all, this is Ravenzomg reviewing today because Gamer has not been hulkified by this particularly uninteresting piece of.... work.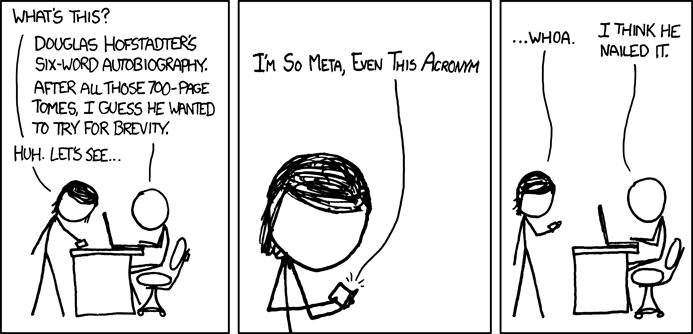 Title: Hofstadter; Tooltip: "This is the reference implementation of the self-reference joke."
I was going to write the review in one huge acrostic, but that'd just be stupid since this comic is not about acrostics, it is about abbreviations. (Do not look for a huge abbreviation either, you will not enjoy it.)
So the joke is about Hofstadter, and if you know
who this guy is
, then you already know we're going to get some stupid joke about analogies. If you don't know this guy, go to
that article
and read, like, 10 words in.
Hofstadter is a man who has published many quite official books and articles on language, logic, philosophy, as well as quite interestingly
rewriting a classic
Russian piece to retain its poetic charm. In short, he's taken his passion and
he has run with it.
(I just set myself up for personal attacks, but that's not really where I am going with this).
Now, this comic is sort of okay. But the biggest problem is that it is entirely GOOMH bait for anyone who knows about Hofstadter. That is the point of this comic.
The joke, which is the cute little acronym (
goddamn it, yes it is an acronym not that other thing
) "I'm so meta even this acronym (IS META)". This is the joke. It's a cute little throwaway thing you write down in a particularly boring lecture.
But then it occurs in panel 2 of 3.
Panel 3 is useless Post-Punchline Dialogue, unless you think the acrostical "WIN" is intentional, which I do not. So we have a joke that is kinda okay if it weren't 33% of his workload for the week, sandwiched between two useless panels. Panel one? Oh, yes, I will get to that.
Now, in fact.
Panel one sets us up with an author we've already mentioned has
proven himself to be quite capable of language games
. Randall has created a little lark, and he legitimizes it by saying
someone else
created it.
You understand how fundamentally
weird
this is? It's like goddamn fan fiction. He's
inserted
his own words into Hofstadter's mouth, and in his created universe it is factual. No, you know what? This isn't
like
fan fiction. It
is
fan fiction.
The more I think about it, the creepier this gets. And this coming from the writer who wrote a fan fiction that was almost (but not actually) slash-fic between Rob and Randall.
GAH.
I mean, let me try this out.
Awkward as shit, and not just because this was inked with a regular blue pen and took less time than perhaps an xkcd comic (hahah, who are we kidding).
The lesson here is that name-dropping is absolutely awful, and creating something and crediting it to someone else, regardless of how good you "think" it "is", is just abhorrent and weird. Why did I mention Randall? Couldn't I have
just talked about the Llamas
without pretending someone else famouser than I talked about llamas?
Yes. Yes I could.
Fuckin' weird.