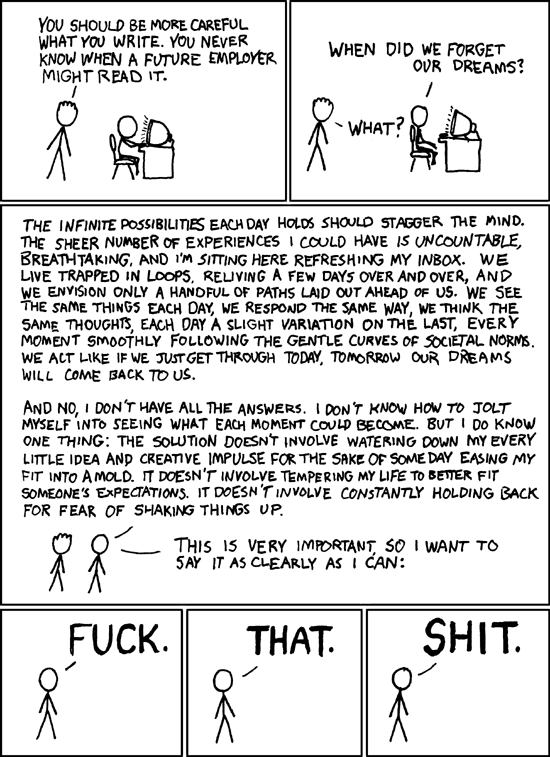 Alt text:
In Connor's second thesis it is stated 'There is no fate but what we make for ourselves.' Does the routine destroy our creativity or do we lose creativity and fall into the routine? Anyway, who's up for a road trip!
Another one from Xkcd's early days, and it's a wall of text. So I might as well get the easy criticisms out of the... You know what? It's wall-of-text-ness doesn't matter. That wall of text is supposed to look like an angry rant, and it is. Let's move on.
This comic says something that really, really needs to be said. So here goes:
A*
for the message. This is an attack on the mundane, the normal, the path of least resistance. Most people are overly cautious in their day-to-day lives, refusing to snap out of the same old habits, because it's easy to do nothing, and because of what someone else might think if they broke with societal norms and just did something different.
This is a message that needs to be said more often. It is a message that I live my life by.
And yet, it's badly phrased, like really badly. It repeats itself in several places - "reliving a few days over and over" vs "each day a slight variation on the last". It's sloppy. It's heartfelt, but it falls over itself. The artwork around the text is weak too.
Yet those were only minor blemishes. This comic's defining flaw is the final three words in the final three panels. "Fuck. That. Shit." says Randall, as if what he said before that was somehow too profound and he had to tone it down a notch or twenty.
I get that "Fuck. That. Shit." is said in reference to the first panel's line about a future employer being able to read what someone wrote online. But by this point, the comic is not about that anymore. The angry rant has taken on a life of its own. It has said more about society as a whole than it has about mere online etiquette, and then it is undermined by
unnecessary comedy
.
It's not just forcing a punchline for the sake of a punchline. He is making this terrible forced punchline seem like the original point of the comic.
No
.
F*
.
And because of
this edit
by a forumite, the punchline sounds like a command to perform scatophillic acts. That is quite an achievement by Xkcdsw, because it somehow manages to make the original comic
even worse
.
137 is not so much a rough diamond, but rather a diamond smothered in shit. While, the execution is piss-poor (to mix metaphors), the message rings true. And for what it's worth, Randall did revisit this exact theme with the
Ch
oic
es s
eri
es
. And in my opinion he did a much better job of it. I actually saw Choices first, and this one later, so 137 felt like a pale knock-off of that.
Anyway, those Choices comics have said something that really resonated with me, and this comic does at least try to say it: remember your dreams, take risks, and never resign to a typical life.
And for the record, not posting something online because of what a future employer might think about it might just be the stupidest thing in the world. After all, do you really think a risk like that would stop me from posting on Xkcd-sucks?