Well, summer is ending, and I feel so alone oh God. This blog is all I have for company. Please make me feel less alone by writing a comment.
1258: First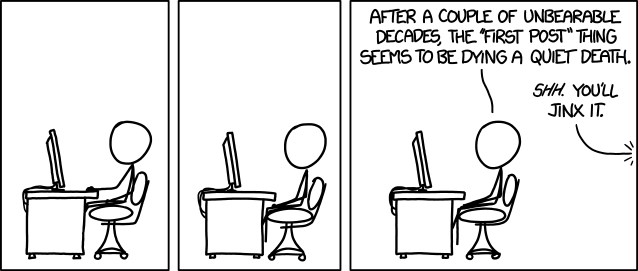 This is awful, Randall. *Takes off belt*
F
for observational humour - you are literally just commenting on an established trend, and not even telling a joke about it.
G
for accuracy - the 'first post' phenomenon is far from dead.
H
for quantum egotism - it's like you decided that if you don't observe it happening on the forums
you
frequent, then it doesn't exist.
I
for actually acknowledging the phenomenon, and encouraging more trolls to do it. And don't you fucking dare say that jinxing it on purpose was the point of the joke, because there was no joke.
J
for lack of a joke. And it looks like you were still trying to do a dramatic buildup for this nonexistent joke. But instead of a joke we get smugness.
K
for smugness - wipe that grin off your face, because even if there had been a joke then it would still be
L
for comic timing. The beat panels literally add nothing.
M
for artwork - the guy barely moves in three panels, and the other character (presumably a woman) is off-panel. And if I wanted to see a stick figure sitting at a computer, I'd look in the fucking mirror.
N
for appealing to your core demographic - even the
forum thread
couldn't find anything good to say about it. It just degraded into a 'last post' forum game, then burned out after two pages. You've created something that even the fora can't nerd out on. Think about that.
O
for being so bad that even Gizmodo wouldn't touch it.
P
for wasting precious pixels on my screen.
Q
for the 23 kilobytes I wasted to download this.
R
for the 35 minutes I have already spent writing about this. I am so fucking angry at this comic. How fitting it is that the harshest grade so far is the first letter of your name. But I'm going to stop there, because there are some things that can't be said with alphabetical grades.
48 BELT LASHINGS for the worst comic I have ever reviewed, one for each of the comics I have reviewed before this one. *Deep menacing breaths, whimpering, and obscure Yiddish expletives are heard from the corner. Thwack, thwack, thwack, thwack...* AYIN KAFIN FAKATA YAN RANDALL. Say first post again. I fucking dare you.
C- for the alt text, which was actually quite good.
1257: Monster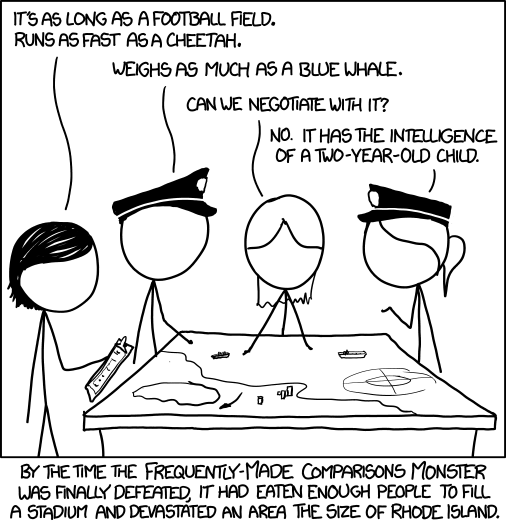 After the 'First' comic, anything looks good in comparison. In hindsight, I probably should have left that one till last.
D+ for dialog. It's terribly stilted, but at least it conveys the joke. B+ for artwork. While it violates show-don't-tell by not actually showing us the monster, I don't actually think that is important. The war room is surprisingly detailed for an xkcd, and showing the monster would ruin the joke. Oh and C+ for the joke. It was not bad, I guess. And B+ for the timing of it. The caption completes the joke, and doesn't whack the reader in the face with an unnecessary explanation. He could have added a few more comparisons in the first two lines of speech to make it more ridiculous, but that's my only real complaint.
1256: Questions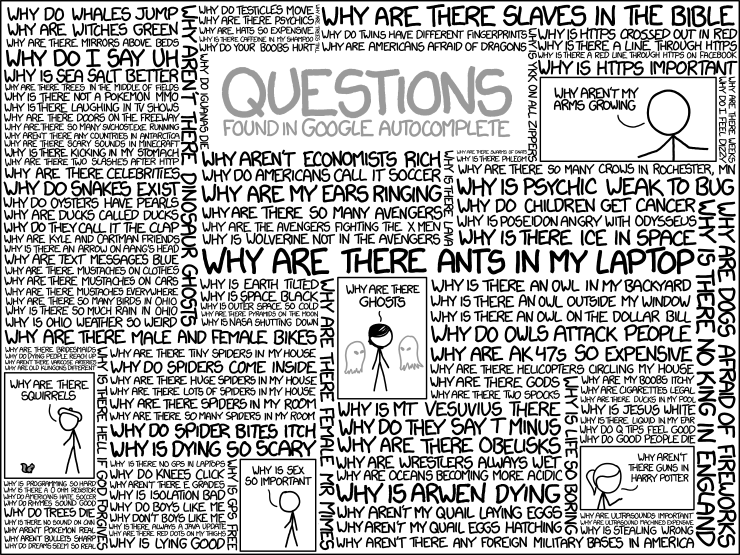 I wanted to hate this one, but when I read it up close, I almost laughed in spite of myself. Funny lines questions like "Why do snakes exist?" make up for at least five not-so-funny ones. This is Randall playing to his strong point, and it works. So I'm actually going to give it a B for humour.
It's funny because the questions are dumb, really dumb. And he's not mocking them in a smug way. B for lack of smugness. They remind me of the sort of questions that a child would ask. With the advent of the Internet, we have become like silly little kids, treating Google as our collective daddy-who-knows-everything. I would have liked to see the comic make a joke about this, or explore it in more detail. D because of what this comic could have been
A for effort. No really, it can't be easy to look at several hundred Google search suggestions, and pick only the stupid ones.
By the way, if you get the reference in this post's title, you don't get a million nerd points or anything. You just get get my unending unconditional love.