If you're browsing on a mobile device, please shoot yourself before you try to read the alt texts. Love you guys. By the way, has anyone used iOS 7 yet? It looks like Randall Munroe designed a mobile operating system! Share your flame wars in the comments, please. Oh wait, Blogger's comment box doesn't work on mobile browsers.
Comic 1267: Mess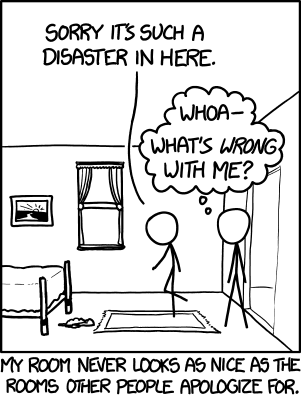 Ah, the GOOMH-bait. Been a while since we've had something like that. The joke is something that some newspaper cartoon has probably covered in the last ten years, but it's not a bad joke and told well.
C
for humour, but
F
for originality.
The artwork, while not stand-out excellent, services the joke.
B
for artwork, and well done for trying. In a comic like this, I can't help be feel it would be nice to see the expressions on the stick figures' faces. Ah who am I kidding, Randall can't draw faces.
Comic 1266: Halting Problem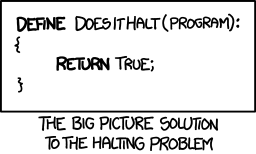 No.
Referencing an obscure computer science problem requires the reader to do their own research, thus ruining the pretence of the joke. Just look at all the people who
googled it
. This is unacceptable. And it also requires the reader to understand programming jargon. It's just the terms define and return, and you can sort of infer those terms from the context, but it ruins the comedic timing if you do so. I'm just gonna go ahead and give this a big fat
F-
for standalone value. I'd like to say it could be worse, but can it?
Even supposing the reader did know about the Halting Problem, what is the actual joke? It's about answering an unanswerable question with a simple and obviously wrong answer. It's equivalent to saying "The meaning of life is 42."Actually bad example. It's like if Douglas Adams published a book that contained nothing but that sentence. Do you not see how that would be bad. G-- for humour.
Now look at this:
DEFINE DoesItHalt(Program):
"The big picture solution to the halting problem"
This is a plain text adaptation of the above comic. Does it lose anything from the original? No. It also has the advantage of being 101 bytes instead of 7.5 kilobytes. If the comic can be adapted into plain text, then you really have to call into question whether it deserves to be an image or not. Comics are a visual medium, and the PNG image can display over 16 million unique colours. H--- for artwork, or lack thereof.
I would say this is the worst in a while, but we had a pretty bad one a few weeks ago.
Comic 1265: Juicer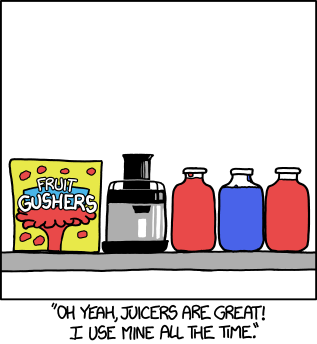 I actually had to use explainxkcd.com to see if the joke is really what I think it is. As it turns out, it is. For those of you who needed a clue, the joke is that someone buys a juicer and uses it to extract the juice from sweets (candy if you're a yank). This has some humorous potential in it, but I don't think it was properly realised.
B-
for humour.
C-
for artwork. I feel he could have added just a little shading on those juice bottles.
D
for the alt text, which seems to contradict the joke itself.
And
F-
for using a brand name product. I'm sure there's cash changing hands under the table.