Hover over the pictures for the alt text.
1220 - Randall is being meta by pointing out how much he hates meta-ness. It would be good if it was actually funny. But no. D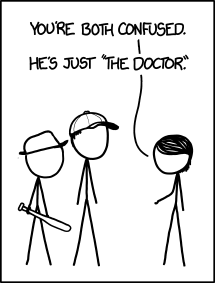 1221 - Ugh, it's not that I don't understand the references here. It's just not even funny when you do. It's not even anything. This comic has no right to exist. It's wasting precious pixels on my screen. F-

1222
- I think I understand what he's getting at (Randall, get out of my head!) But it seems so needlessly negative, and yes, smug. Randall presents a problem, but offers no solution. How the mighty have fallen, since
267
.
D-
Bingo time!
Oh boy, we haven't done this in a while. It would be a most special thread for this inaugural bingo. So let's have a look at the 2-page obnoxiousness-fest that is the
thread for 1221
.
B1
(I signed up just to say...) - This square comes courtesy of new user A42, who made
this post
:
"I made an account here just to say, EEEEEEEEEE, Randall referenced A Wrinkle In Time!"
...which also counts as a B2 and a B3.
I2
(Language/grammar) - We had a long and pointless flame-war about the dot that appears after an abbreviation like Mrs. (yes, really!) It was m_dow who
fired the first shot
.
N3
(Get out of my head, Randall!):
Yes, it is
.
G4
(Off-topic argument) - that argument about grammar was indeed off-topic.
O5
(Explaining the joke): Too many examples to link to. But for a comic like this, it was inevitable.
See you next week with more bingo.