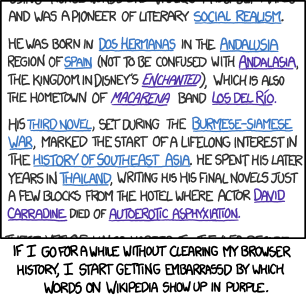 Alt-text: I hate when I read something like '... tension among the BASE jumpers nearly led to wingsuit combat ...', and I get excited because 'wingsuit combat' is underlined, only to find that it's just separate links to the 'wingsuit' and 'combat' articles.
Oh look, it's another Wikipedia comic. This time it even features Randall's admission that he spends a lot of time reading the wrong Wikipedia articles. Hey, asshole, I have a solution for you! Use that time to do something more productive! Better comics, maybe? Well, at least it is drawn in such a way that the fanbase will have a hard time incorporating this one into the real Wikipedia. As far as I know, no historical figure fits the description.
From the way the article fragment is written, I first thought that the joke was about the completely unnecessary details and that it was a parody of Wikipedia's writing style (which, admittedly, would make this a better comic, really), but no, it's just written that way because Randall needed set-up for his stupid punchline. And that's terrible.
On the other hand, though, the alt-text is kinda funny, which is a rare sight, at least for me. It needs rewording badly (just hire that editor already), but other than that, it's observational humor done relatively well. Too bad it's coupled with a dumb, dumb comic.
----
P.S.:
Autoerotic asphyxiation
. Because if I didn't mention it, someone in the comments would.