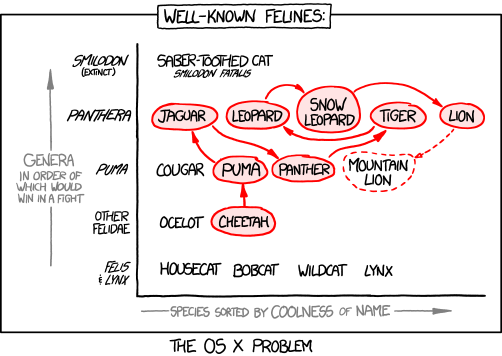 title: "
Felidae
"; alt-text: "
'Smilodon fatalis' narrowly edged out 'Tyrannosaurus rex' to win this year's Most Badass Latin Names competition, after edging out 'Dracorex hogwartsia' and 'Stygimoloch spinifer' (meaning 'horned dragon from the river of death') in the semifinals.
"
Totally a Real Thing
I'm posting this review because I couldn't find anything funny or clever in this comic. I'll be honest; I read it once and didn't get it and then came back later and tried again and noticed where it says "
THE OS X PROBLEM
" down at the bottom there for the first time.
Randall has arbitrarily arranged some feline names and then pointed out that OSX doesn't use the same arbitrary arrangement that he would have and that they will soon run out of awesome sounding names of powerful cats. OK... maybe the joke is in the alt-text... nope, unrelated comment and a attempt to get me to
got to Wikipedia
to find out if 'Dracorex hogwartsia' is a real thing.
So, were're back to Randall trying to be clever and failing. I get that Apple is running out of awesome cat names... but why is that funny? Also... why is this a comic at all? Do you really need an illustration to say "What happens when Apple runs out of cat names?"... I supposed he was going for humour density here... if you break it down there are a lot of sub-joke attempts in there... but really... a stick figure looking at a box labelled "OS 10.13 Housecat" would have probably gotten more laughs.