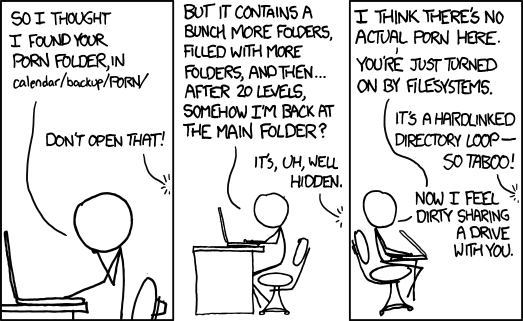 Title: Porn Folder; alt-text: Eww, gross, you modified link()? How could you enjoy abusing a filesystem like that?
Let's ignore all the dialogue for now. Normally, this would improve xkcd vastly, but in this case, it only serves to highlight Randall's awful attempt at illustrating the conversation. As my eyes were drawn to the missing headrest component in panel 2, the ridiculous angle of the chair in panel 3, the fact that the guy picks up his laptop to turn around (who does that?), the uneven lines on the desk and computer, and so on, I realized something. That computer setup looked familiar. Could this be...consistency?
For a second, I was hopeful. Sure enough, a jaunt through the recent archives led me to
many
more
instances
of
it
in
comics
past
. Consistency! However, I soon realized something. Unless the entire cast lives in some fraternity house and are compulsive furniture movers, this doesn't make any sense. Sometimes there's a laptop on the desk. Sometimes it's a computer monitor. Sometimes it's a TV. Sometimes an easy chair is facing the desk, and sometimes it's facing away. Most of the time an office chair is there. My best guess is that Mr. Xkcd (does the generic guy have a name yet?) lives with Megan. Megan is friends with Sarah (the blonde girl). Mr. Hat is that guy that everyone kind of knows but no one really likes, and he just comes over whenever he's bored. It's really the only explanation!
Or, you know, Randall is just awful at drawing, and he can only draw one couch, one chair, one desk, one laptop, and one tv/monitor. Or, worse still, he's NOT that bad at drawing, and is just so darn lazy that anything taking longer than 5 seconds isn't worth his time (unless it's poorly researched collections of colored squares). And the worst thing is, Randall's been doing this for six years. I get that stick figures are his "minimalistic" thing, but flat-out REFUSING to improve the other aspects of the strip is just insulting to the medium.
Okay, I'm done with that little tirade. Bring back the dialogue, toss out the art, and we'll proceed to the second half of the review.
Remember that thing I said about consistency? Yeah, it doesn't exist in xkcd. Megan (who I assume is the person off-screen here) made it very clear
267 strips ago
that her porn is NOT about filesystems. In other words, as usual, Randall just makes up personalities for the sake of jokes. I complained about this in just
my fourth review
here, and it still bugs me. Apparently the appeal of "lulz this is something a super-nerd might do" is enough to create a completely contradictory comic for the sake of that "joke."
And that's really all this comic is. Is this something someone would actually do? Of course not. (More to the point, I doubt someone would be in denial about their porn at first but immediately switch to unashamedly defending it a second later.) And why use the "porn folder" context to frame this joke? The "joke" is "You're not supposed to create hard directory loops and yet this person is doing it." How is that funny? What mood do you have to be in (besides last-minute panic) that your brain generates this idea and you think, "Yeah, that's a pretty good idea for a comic"?
And yeah, I know this is nothing new for Randall. Mediocrity has been his M.O. for years. Still, it's frustrating that comics like this are all xkcd will ever be, and yet legions of fans praise him for it.
xkcd sucks.
P.S. Why are Mr. Xkcd and Megan sharing a drive on a laptop? Isn't the point of a laptop largely that it's your own, and you don't need to share it? Are they really so poor that they can't afford separate computers? (And how could they be poor if they
don't have kids
?) Personally, I can't imagine sharing a computer with someone (even if they had a separate partition), and I don't even have anything to hide. It's just...it's MY computer, you know?