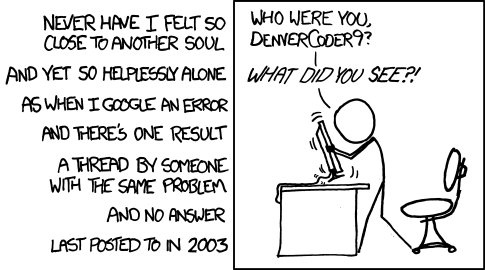 Title: Wisdom of the Ancients; alt-text: All long help threads should have a sticky globally-editable post at the top saying 'DEAR PEOPLE FROM THE FUTURE: Here's what we've figured out so far ...'
Okay, there are several things that make this strip suck. The first one should be obvious to all of you, but I'll say it anyway.
This comic is UGLY.
I'm not even talking about ugly in the traditional "xkcd is stick art" sense. I mean that having a "poem" (if you want to call it that) as the first panel and a guy yelling at a computer as the second panel just looks BAD. But the problem is, I can't think of a way to improve the formatting, at least not as the comic stands now. There's too much text to be used as a caption, which means that formatting it this way is truly the best Randall could do with what he gave himself.
But this leads into the second problem with today's comic. The image is nothing but post-punchline dialogue. Randall said all he needed to say in his little poem, and the second panel probably should've been condensed to alt-text. Unfortunately, that means that this comic, at its core, is simply text. And it's not just any text; it's a POEM. A bad poem, but a poem nonetheless (note the "artistic" separation of the single sentence). It should properly read, "Never have I felt so close to another soul, and yet so helplessly alone, as when I Google an error and there's one result: A thread by someone with the same problem and no answer last posted to in 2003." The touches of purple prose and the format of the presentation bump this simple sentence into poetry status (despite the lack of rhyme or meter). Those interested in the humanities would call this free verse.
Get that? This comic, minus the PPD, is a poem. It's a journey into Randall's self-proclaimed most hated of studies: the humanities. xkcd, a comic of "romance, sarcasm, math, and language," has sunk so low as to use POETRY (and nothing else) as today's update.
*
That's...shocking, to say the least. I don't know what to make of it.
Okay, onto the third and final problem of today's strip. In addition to being a poem with PPD, this comic is using referential humor (a nice way of saying it's GOOMHR-bait). If readers laugh, it's that "ah heh heh, I've totally been there" laugh that's not really prompted by true humor, but simply a situation that the reader happens to recognize. It's like people laughing at "the cake is a lie." That's a game reference, not a joke, and this comic is doing the exact same thing. We're supposed to like it because we've all experienced this (I actually have, but that doesn't make the comic any funnier). But that's no substitute to actual humor.
*
I actually don't have a problem with humanities or poetry. They might not have long-term career value, but they're not as worthless as Randall so ardently proclaims. My issue with this is not that poetry is being used, but that it's being used by RANDALL MUNROE in place of an actual comic.