Comic 1305: Undocumented Feature

Click here
, or anywhere on the image, to see the full-sized version. Trust me, it's worth it. I will wait.
I just, wow, this Xkcd hits home in so many ways. A many-panel skyscraper of a comic, reminiscent of the the glory days of SMBC. The artwork is effective and to the point. But what really make me want to re-read this comic is the story it tells.
I think the subject matter of this comic is something we can all relate to. This comic is fictitious, but it captures the experience of so many online backwater communities. It ends with a punchline about Facebook and an alt text about Youtube, but that is only to emphasise the contrast between those sites and the little misfit communities that we create ourselves.
And yes, Xkcd-sucks is one of those communities, whether you spell it with a hyphen or not. Look in any comment thread and you will see the friendships we have built. We were just trying to troll each other, but in was in fact the trolling that helped bring us together.
Furthermore, this comic is an important reminder that all online communities will eventually die. You don't have to be particularly observant to see that has already began to happen. No-hyphen doesn't update anymore. The comment threads are closed. And that has not produced the huge influx of activity to this blog that I expected.
People leaving No-hyphen are not going elsewhere to hate Xkcd. They are just leaving, for the same reasons that Rob is no longer posting. Their hate is turning to apathy. It's no longer fun to hate Xkcd.
With that in mind, I have decided to stop reviewing Xkcd. This blog will be retired, and Xkcd-sucks will die.
So in light of everything I have said, I will give this comic the grade it truly deserves, complete with something I have been waiting to say in earnest for all these years: A* for Randall Get Out Out Of My Head.
That does not mean the previous six Xkcds are exempt from criticism. These will be the last reviews I write, so I might as well make them count.
Comic 1304: Glass Trolling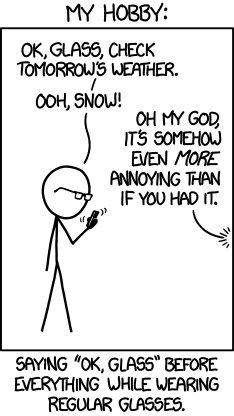 B- for trolling Google Glass. It's something that deserves to be trolled, but the troll was not original. F for the fact that obnoxious Xkcd fans everywhere are going to copy this comic, because of course they are. Just imagine a million of them uttering 'OK Glass' commands while they needlessly chatter at their smartphones. Worst of all, there already is a feature on Nexus phones that's pretty much the same thing, except you say 'OK Google Now'. And with this comic being the bad influence that it is, people might actually start using it. Randall, do you even know what you have inflicted on humanity with this simple PNG image? Instead of mocking the stupid trend of talking to electronics, you have helped perpetuate it!
D for artwork, and for not even going to the effort of drawing a second person. DETENTION for Gizmodo repost.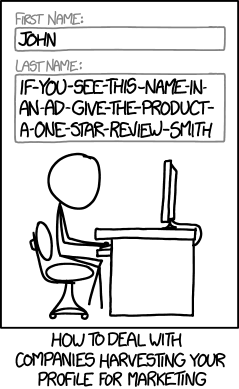 Nice idea, but there are so many ways in which it wouldn't work.
It wouldn't work for social networks, which is where we would most want to use this trick. How dumb would it look if every single comment you made on Youtube was signed 'John If-you-see-this-name-in-an-ad-give-the-product-a-one-star-review-smith'?
F- for failing to think things through any more than I thought through this grade.
DETENTION for Gizmodo repost.
Comic 1302: Year in Review

This comic failed to make a point. F- for lack of a point. Is the joke supposed to be that a newscaster talks about something completely irrelevant while on air. Whilst it's something we'd all like to see a newscaster do, it doesn't actually make for a good joke, because it's unoriginal as fuck. F-- for unoriginality.
And the worst part is that it's trying to be all zany and random, and it just fails dismally, because it's just what we expected. F for building up an expectation, and going nowhere with it.
C- for the alt text, but it was almost unrelated to the comic.
Comic 1301: File Extensions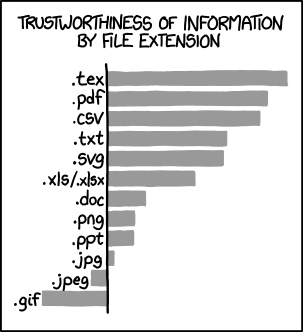 I fail to see a joke in this one. I fail to see any way to apply this comic to my own experiences. You have to be scraping the bottom of the observational humour barrel to come up with stuff like 'oh yeah, pdf files are much more trustworthy than ppt files.
It doesn't even make sense on its own logic. I regularly convert my lecture slides from .ppt to .pdf to make them easier to read on a Mac. But that doesn't change their trustworthiness. Normally logic shouldn't matter, as it's just a comic. But when it fails to impress me in any other regard, logic becomes its only redeeming value. And the weak logic of the broad sweeping statements about file types, which is incidental to the content they contain, is the best thing about this comic. Doesn't that say a lot.
Oh yeah, Randall. Aren't your comics always in PNG format?
F for lack of logic. F- for lack of relevance. F-- for lack of a joke. DETENTION for Gizmodo repost.
Comic 1300: I Don't Own a TV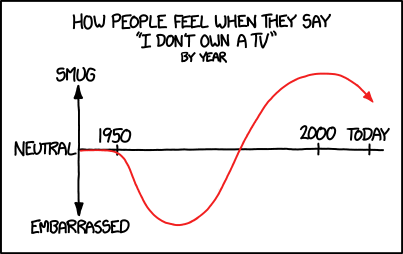 The following review is a tribute to Rob Mason, and his timelessly brevitic style of reviewing eveything.
Nobody cares. F
Comic 1299: Galilean Moons

This comic is just... what? This comic is awful beyond mere description of words. To wit one
William Monty Hughes
, "Words fail me [...] but I shall not fail words." So let's review this astronomical turd of a comic.
Why would one of the moons be so happy about escaping the girl's orbit, and orbiting the guy instead... unless it was planning to suck him off. Hey, that reminds me of
my first ever comment
. Nostalgia aside, it is so hard to see what this comic is on about. I had to turn to Explain Xkcd to help me in my final review, and the grades I had to give are:
*Deep breath!*
Q for bad artwork. R for failing to include show the moons' motion. S for not even including a dotted circle to show the orbit. T for the impossible-to-comprehend joke about orbital resonance. U for lack of standalone value due to it being a joke about orbital resonance. V because it's not even funny. W because apparently Galilean moons moons a don't do anything but say the same thing repeatedly. X because even if the moons somehow had the power of speech (and I reiterate: why the fuck?!) it would make no sense for one of them to shout "MOOOOOOON!" It's like the most annoying Pokemon with none of the good things about being a Pokemon. Y because not even the forums liked it. Z for making moons look like the astronomical equivalent of crabs.
Overall grade: Z*, that's a ZED-FUCKING-STAR (pun not intended thank you very much - a moon is not a star), the worst grade I have ever given. You know what that means?
100 BELT LASHINGS, one for every comic I have ever reviewed, for the WORST COMIC I HAVE EVER REVIEWED.
*THWACK*
And before I go,
DOUBLE DETENTION
for Gizmodo repost. Fuck you Gizmodo! FUCK YOU IN THE THUNDERBOLT PORT!
AND FUCK EVERYTHING TO DO WITH FLAT DESIGN.
ALSO WHOSE IDEA WAS IT TO PUT DRM ON A FUCKING USB CABLE?! FUCK YOU STEVE JOBS!!!!!! OY VEY.

*Ahem*

Before I go, I'd like to talk seriously for a moment. If comic 1305 is anything to go by, this community will soon be forgotten, even by those who participated in it. And that makes me truly deeply sad. But though we may go our separate ways and never even tell anyone that Xkcd-sucks was a thing, there is one thing that we will never lose: the fun we had from the comics we bashed and the friendships we made. Even if no one remembers it, it still happened. It was good while it lasted, and no one can take that away from us.

You know, I was never into MMO gaming, and Chat-rooms and BBSes were slightly before my time. So this was the closest I have been to a tight-knit online community that I felt I really belonged to. And you guys have been best, even the Anonymous, especially the Anonymous. The last few years have been the best of my life.

Feel free to share your best memories of hating Xkcd in the space below. Try to put this blog out of your mind when you see your families this Christmas. I wish you good luck, farewell, and have an easy feast.

And I never did finish that story...