Have you heard that they're phasing out alphabetical grades in the British GCSE system? That means their getting rid of the A* grade, and I for one think it's a travesty. Future generations' grades be made better through association with a celestial body. You can rest assured that xkcd-sucks will continue to use alphabetical grades for the foreseeable future. Now on with the reviews.
Comic 1282: Monty Hall

I know it's making reference to a semi-obscure logic problem, yet it's sort of essential to understanding the joke. And it has Beret, second only to Black Hat in his inconsistency as a character. And yet I just can't criticise it. Missing the point of the Monty Hall problem and taking the goat instead strikes like 'typical Beret' and 'something Beret would do'. Furthermore, it's so damn cute. So yeah,
A*
for just being a perfectly heartwarming comic, and doing what xkcd should do more often. Oh and the alt text is just perfect.
Comic 1281: Minifigs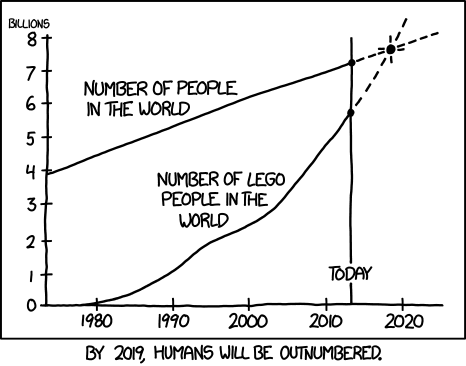 Liking two xkcds in a row? What's wrong with me? Hear me out here. It may be a graph joke, but it's a good graph joke.
A*
for concept. The concept of Lego people outnumbering human people is not funny in itself. But it's something that no one else has thought of. Having said that, someone probably has thought of it before. It also gains
A*
bonus points for being true (probably).
The execution is really great too. This may be a happy accident from the data he's got, but he's labelled the graph so that the label for the 'unfunny' world population graph is what you read first, and then you read the 'funny' data for the world lego population.
A
for comic timing and data presentation.
B-
for the actual punchline though. It feels a little bit like post-punchline dialog, or repeating what the reader already knows. He'd only have to do one thing to improve it. Move the caption to the top, so it's the first thing the reader sees. As it is, the title telegraphs the punchline too much, so maybe change it to something like 'Outnumbered'. Then it would be perfect.
I'm losing it as a critic. I never claimed to be objective, but I can't hate xkcd when I need to. Let's see if the next comic is any improvement...
Comic 1280: Mystery News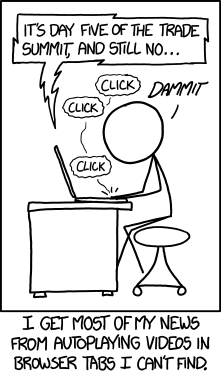 Ah, that's more like it.
D
for concept.
E
for execution.
F
for humour. 'Most of my news' is absurdly exaggerated, and not even in a funny way. If I ever get one of those awful auto-playing videos and I can't find the tab it's playing from, I don't stop and listen to it, like this comic implies.
F-
for implying that anyone would do that, EVER. I usually resort to more drastic measures to avoid listening, like
systematically destroying all 6 million tabs
pressing the mute button. It would be funny if... no, I got nothing. Also,
DETENTION
for Gizmodo repost.
Yes I know I'm a week behind. Remaining comics to follow shortly.