This week's comics were quite uninteresting. I'm sorry if it sounds like I don;t have much to say about them. Form your own opinions in the comments if you have to. And read the review when you're done.
1234: Douglas Engelbart (1925-2013)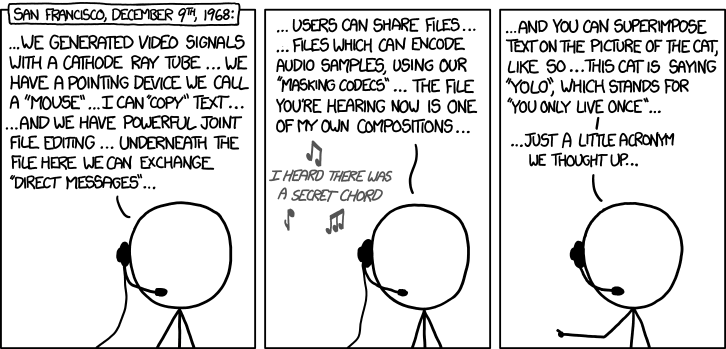 Am I missing something here? So the joke is that he's discussing decidedly modern things in an apparently famous tech demo that happened in 1968? There are better ways of doing an Anachronism Stew. I had to look up Douglas Engelbart. He is the guy who invented the computer mouse, among other things. I don't know about the demo, but I'm guessing it was especially ahead of its time, or somehow prophetic of how we use computers today. I feel like I'd be dancing on someone's grave if I bashed this comic too badly, so instead I'm going to damn it with faint praise.
C for humour. D+ for the references that felt shoehorned. D for wall of text.
1233: Relativity
There is no 'at the speed of light'. This is one of the first things they teach you in relativity. There is only 'near the speed of light'.
Your butt would look bigger, but only in proportion to the rest of your body.
There are obvious practical issues with flaunting your butt when you are speeding past your observer at nearly the speed of light, namely that you'd be too far away to see after a fraction of a second.
I am only nitpicking it this way, because you need to know relativity in order to understand the comic in the first place. And that makes it not work. It doesn't even make sense on its own terms. It's the sort of thing that is funny to middle school students who know a bit about relativity, but not enough yet to ruin the joke. That is the audience Mr Munroe is aiming at.

And he's putting words in the mouth of Einstein. Zombie Marie Curie was bad enough.
C for premise. D for the unclear punchline. F for possessing great scientists.