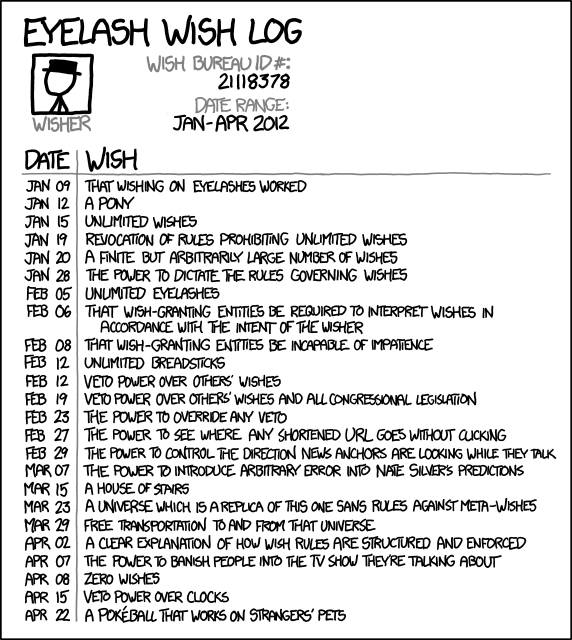 Alt-text: Ooh, another one. Uh ... the ability to alter any coefficients of friction at will during sporting events.
Oh come on! This isn't even a comic. How far up your ass does your head have to be to think that to be labelled a comic, all your creation needs to be is made by hand in a drawing program?
Yep, it's another one of those and I guess it's my duty to demonstrate how this execution is the single worst one that Randall could've chosen. First, it is essentially a dumb joke about meta-wishes (who hasn't made one of those?) interspersed with shotgun humor, and as we all know by now, neither is funny, especially when done by xkcd. The shotgun wishes especially could be used as setups for a series of comics, depicting the effects of said wishes, but no, all we get is a list of ideas.
What really ruins the comic for me is the format. Presuming the existence of a magical wish-granting bureau is a) something so typically xkcd, and b) a dead horse already. You could've drawn this as a log of a clinically insane man and you wouldn't even have to change anything except for the header.
Also, including a picture of Mr. Hat in the log does not count as featuring a recurring character.