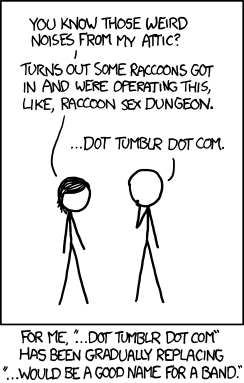 Title:
Tumblr
; Alt-Text:
"
Dot Tumblr Dot Com, on the other hand, would be an awful name for a band, if only because of how hard it would be to direct people to your band's website.
"
I get that some people out there feel like criticizing someone else's creative work is sour grapes but today's comic is a good illustration of what is so often my motivation to do so.
Today's comic is just mildly disappointing in the grand scheme of things but I expect better from a guy who has so many adoring fans. I'll grant that no one is perfect all the time but I can't help feeling cheated when someone who has proved his ability to entertain me in the past fails to do so in a given instance. I can't help feeling like I have been denied something despite Randall not owing me anything.
I imagine myself in this comic as the long haired fellow on the left. I'm at a party and trying to tell an interesting anecdote to my friend who thinks he's clever and instead of him empathizing with my plight and helping me laugh at the human condition because it's the only thing that'll make it stop hurting... he tries to be clever and then goes on to drive the conversation into his own wheelhouse making lame follow up jokes.
I haven't done an edit in a while but any time a comic can be improved by someone getting punched in the face I feel... stirrings...
So, if I were to do this comic... after the fellow on the right says "...DOT TUMBLR DOT COM." the long haired fellow on the left would say, "How's that working out for you?" and then the fellow on the right would say "What?" and then the long haired fellow on the left would punch the fellow on the right in the face.
All that said... divorced from the context of being a terrible follow up to a weak joke... that Alt-Text has a pretty good point... but now I want to start a band called "Would be a Good Name for a Band".
Incidentally, the last band I
was
in was called "176½".