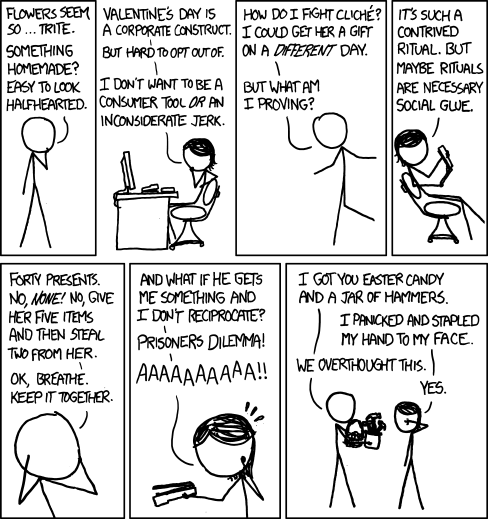 Alt-text: The worst resolution to the Valentine Prisoner's Dilemma when YOU decide not to give your partner a present but your PARTNER decides to testify against you in the armed robbery case.
St. Valentine's Day is coming, which means that many webcomics, especially those that don't follow a storyline, will have a Valentine themed strip, like
here
or
here (NSFW)
. And whaddya know, xkcd is one of those webcomics, too. So buckle up, this is gonna be on bumpy ride.
I really hate this comic, and I'll get to why in a second, but first let me take care of the usual: This is not a comic strip, it's just a script in a drawn form.
Show
us that Megan has her hand stapled to her face, don't
tell
us! Randall, you're not an artist, because you
fail at art!
With that being said, there are three points in this comic that I would like to address. The first is the old,
old
"joke" of criticizing Valentine's Day. Yes, we all know that it's trite and clichéd, yes, we know that it's been commercialized to hell and back, but guess what? Literally
everybody on this planet
has already made the joke, and in much better ways at that. Also,
fuck you
.
The second point is the old,
old
"joke" about nerds overthinking the simplest of things, especially if it's wrong. Ignoring stick!Randall's attempt at figuring out the correct value of the gift he should give to Megan (also an old joke, done much better, for example, in
The Big Bang Theory
episode "Bath Item Gift Hypothesis"), we have the part where Megan's realizes that she has been caught up in a Prisoner's Dilemma,
and then proceeds to panic anyway
. We have that shit figured out! We know which choice to take in this scenario, and all you need to know is whether you want to maximize your reward or minimize your risk.
This ties directly into my third point which is not an old,
old
"joke", but rather the comparison of Valentine gift buying to the Prisoner's Dilemma. That's actually pretty clever, and even if it has been done before (which it probably has), it should have been the focus of your strip. Lose the wall of text, lose the stupid,
stupid
, characters and build on game theory. You're writing a nerd comic, ferchrissakes, the least you can do is analyze and algorithimize holidays.
But hey, at least Randall is being topical for once.
***
A little off-topic note: What I really like about the Oglaf comic linked above is that it's not only making fun of Valentine's Day, but it also offers a pretty cynical message about only professing one's love out of obligation. That's more of an xkcd comic than the actual xkcd comic.