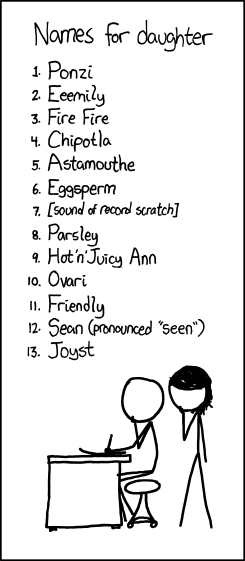 Alt-text: I've been trying for a couple years now but I haven't been able to come up with a name dumber than 'Renesmee'.
I'll be brief this time, because there's not that much that I want to address. This is another shotgun humor strip, though I think it should rather be called "an Imperial Army humor strip", because when you shoot a shotgun, you actually
hit the target
.
It is clear what gave Randall the inspiration to puke up this godawful abomination; the Munores must be expecting a baby girl, and putting aside that we know exactly how Randall is going to name his daughter, he though it would be hilarious to put down a list of stupid ideas for a name. And, true to his spirit, it is full of references, jokes that weren't funny five years ago and some of Randall's patented creepiness. No, you don't get to brag about how none of the names you came up with are worse than the terrible name from Twilight, when your list includes
Ovari and Eggsperm
! And that is all I have to say.