Alt-text:
I'm teaching every 8-year-old relative to say this, and every 14-year-old to do the same thing with Toy Story. Also, Pokemon hit the US over a decade ago and kids born after Aladdin came out will turn 18 next year.
Oh wait...that's Comic 647. Let's try again.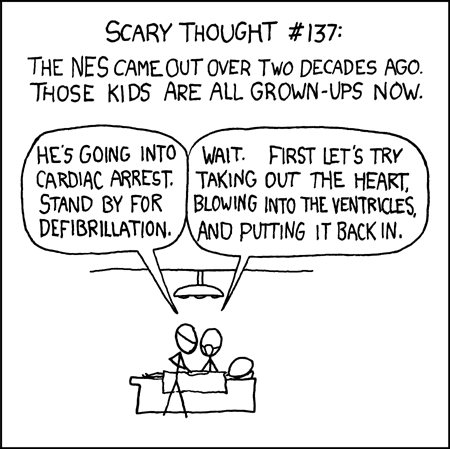 Nope, those aren't right either. Ah! Here's 1393:

Alt-text:
'Hello, Ghostbusters?' 'ooOOoooo people born years after that movie came out are having a second chiiiild right now ooOoooOoo'
While I can't be bothered to look up other instances of this
(891 and 1093 — ed.)
, I'm positive this isn't the first time Randall has turned around and made fun of the same premises he once used as jokes. Is it a big deal? It's tough to say. As these strips indicate, people DO grow older, and as they grow older, their feelings change (look no further than the primary audience of these hate blogs).
For now, I'm willing to accept this change of heart. Randall did a 180, sure, but he didn't do it with any sort of pretentiousness, and he didn't make "this thing is annoying" the entirety of the joke, as he's done
before
. The joke at the end is actually a decent twist, and while I don't think it needed the buildup of three panels (this isn't a newspaper comic, after all - he can use whatever format he likes), there are worse ways of going about it.
That said, I don't believe this was a comic that needed to be made. Sure, Randall took an unfunny thing and made it funny (and as a cartoonist, that's his job), but it's not really what I'd consider xkcd subject matter. It's just him saying, "I want to tell people how I feel about this, so I'd better stick a joke at the end." There's nothing particularly intelligent or scientific about it, and nothing related to romance, sarcasm, math, or language either. It's just something Randall doesn't like with a joke at the end.
In other words, it's the sort of comic that made me stop caring about xkcd. Not nerdy enough to have niche appeal, not funny enough to have broad appeal, and not bad enough to have hateblog appeal. It's just unremarkable; nothing more.
P.S. - My favorite of these sorts of factoids is "Most kids entering high school this year were born in the year 2000."