I'm honestly struggling to come up with words with which to fault 1374, because it was so devoid of humour and redeeming value, that any criticism I lay on it would seem petty.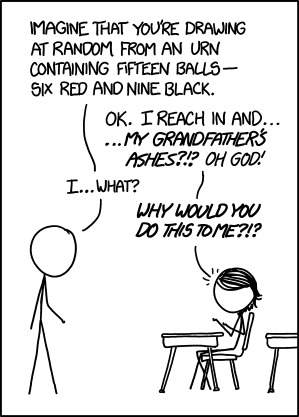 Alt text:
Can this PLEASE be drawing with replacement?
It's a word play on the word 'urn'. Actually not even a word play, but more an acknowledgement that urns can be used for containing human ashes and for hypothetical probability exercises. I mean really?!? That's like if the teacher's question involved bottles, and the smart-ass student said "Herp. Is one of those bottles full of beer? If so, I drink it and get expelled from school and never have to do math class again." Or in a geography class, if a student was asked why a river forms meanders and says "Daaa. I pissed in the river. Lolololol." about If either of those jokes were told in one of my classes, it would amuse only the dumb kids. I mean, I'm all for making XKCD more accessible, but this is just
stupid for the sake of stupid
.
I know I've stopped doing alphabetical grades, but this comic gets an
F
, and a
U
, and a
C
, and a
K
.
Edit: explainxkcd.com has
pointed out
that this joke may have been in reference to the
recent phenomenon
of 'trigger warnings' in college campuses. If that is true, then that makes it 100 times better. It elevates the joke to something more like: "What's next, trigger warnings in high schools? No way man. The only way we'd need that is if students are emotionally retarded enough to be set off by stupid little things like this."
In case you can't tell, I approve of this alternate meaning. And I find it sad that there's
NOTHING IN THE COMIC TO SUGGEST THIS
. How typical of Munroe to spoil a good joke with piss-poor execution. He either thought of a funny situation to do with trigger warnings in schools, then forgot where he got the idea from and posted it without context, or he made the mistake of assuming that the news story would be so ubiquitous that everyone would know about it anyway.
Then again, I could be giving Randall too much credit, and it might have nothing to do with trigger warnings and simply be a bad joke. After all, it's unlikely that he would consciously write a comic where a female character is in the wrong.